Dieser Beitrag enthält Werbung – advertising.
Pasta & summer: it's an excellent combination because pasta is an easy dish convenient for all these warm summer nights when sitting outside w/ a glass of wine longing for some easy, but substantial food – which wouldn't keep you in the kitchen for too long.
The spaghetti are coated w/ a blend of fresh crispy lemon flavour, a hot chili impact & a hearty garlic background – the lemon thyme will give it a solid Mediterranean finish.
Start at once… you'll only need:
spaghetti
olive oil
an organic lemon
garlic
dried chili peppers…
…
…& maybe – optional – some cream & fresh lemon thyme.
1st step: Grate the lemon zest & squeeze the lemon juice.
2nd step: Press the garlic.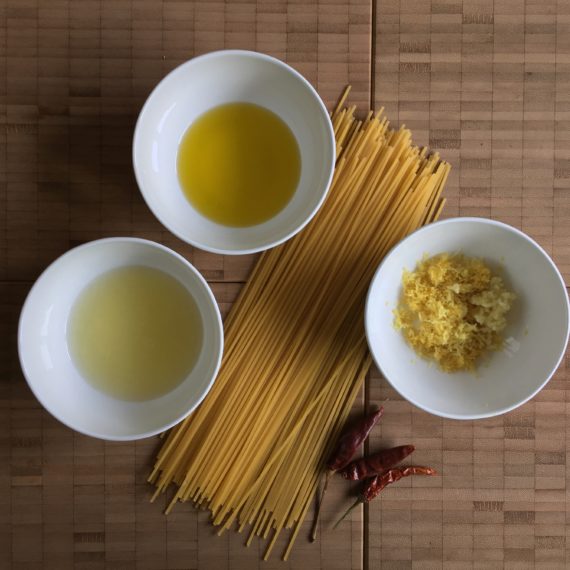 While cooking the spaghetti grab a pan & start frying the lemon zest, the pressed garlic & the chili peppers in olive oil – softly! Totally softly! Nothing shall get black & burnt!
Add some cooking water of the spaghetti for creaminess… & add some lemon juice for flavour!
As soon as the spaghetti are well cooked & drained just put them in the pan & toss to combine.
Maybe add some cream for even more creaminess…
Don't forget to discard the chili peppers!
When serving add some minced fresh lemon thyme!
It's perfect! Enjoy!
Print Recipe
it's summer: lemon pasta!
Another simple spaghetti dish strongly flavoured by lemon zest & juice - easy & fast to prepare!
ingredients:
150

g

spaghetti

3

tbsp

olive oil

zest & juice of an organic lemon

2-3

cloves

of garlic

2-3

dried chili peppers

salt & pepper

2-3

tbsp

liquid cream - OPTIONAL

1

tbsp

minced lemon thyme - OPTIONAL
how to:
Grate the lemon zest & squeeze the juice.

Bring water to a boil & add spaghetti; cook as long as recommended.

While cooking the spaghetti heat the olive oil in a pan.

Add lemon zest, pessed garlic & chili peppers.

Fry softly - really softly - until the spaghetti are fine.

Add about 4 tbsp cooking water of the spaghetti & 2 tbsp lemon juice.

Add salt & pepper.

Discard the chili peppers.

Drain the spaghetti & add to the pan. Mix thoroughly.

If you prefer more lemon flavour add some more lemon juice - maybe 1 tbsp.

OPTIONAL: Add 2-3 tbsp liquid cream. Mix thoroughly.

OPTIONAL: Add minced thyme on top before serving.
Notes
Prep Time: It's the preparation of the lemon, the frying as well as cooking the spaghetti.
Garlic & chili peppers: in the end it's up to you how much garlic or chili you'll like... However, don't skip either the garlic nor the chili peppers!
Cream: The spaghetti cooking water cares for a soft creamy finish - however, if you like it a little more creamy just add some cream (it doesn't hurt!).
Lemon thyme: If not available just add plain thyme!
Sorry: no experience w/ reheating or freezing any leftovers!
It's fresh from the lemon, it's hot from the chili & it's feeling-good from the garlic! Combine it w/ some wine & chill out…
The businesswoman w/ too many office hours thinks
I like these short notice pasta mess. Full stop.
MerkenMerken
MerkenMerken
MerkenMerken
MerkenMerken