Dieser Beitrag enthält Werbung – advertising.
Es Vedrà – isn't it a great view?
It's even more spectacular when standing on Ibiza's rock coast in the sun in a light breeze admiring the towering islet face to face – seems really huge then … One of the iconic spots in Ibiza: pure, serene, wild, lonely, mystic … a natural landmark. You may get a hint why Ibiza in the 70s & 80s became a hotspot for all the hippies & dropouts.
However, if there is one thing you associate typically & instantly w/ Ibiza nowadays … it's partying!
So … what to expect when going to Ibiza in March?
It's beyond any summer/party/fun season, it's beyond any 30+° C. There aren't so many tourist crowds … it's a calm island in the sun – that's at least what my better half & I found when we arrived.
We had planned to escape the rest-of-winter feeling at home, the rainy days, the haze all day long, the cold … We imagined some lonely idyll in the sun: blue ocean, blue skies, brilliant sun & at least warm enough to walk anywhere w/ just a T-shirt & thin summer jeans. We anticipated sitting outside of cafés with café solo & chilled white wine, plates loaded w/ tapas … enjoying la dolce far niente in Spain!
… & for our week it was exactly what we had hoped for! We relaxed, we read a lot of books to read, we walked along the beach, we strolled around the port bay & across the old town Dalt Vila, rented a car & made some excursion across the island.
Were there any setbacks?
Well – a great deal of cafés, bars, restaurants, shops etc. are still closed in March. Even the famous hippie markets are deserted. So we had to confine ourselves w/ a small variety, however, it was fine for us. Slowness & quietness rule the scene. The boats & ships in the harbor are still wrapped up from the winter season. The old town Dalt Vila is rather empty – refreshingly empty. Beaches are beautifully lonely except that the water is still rather cold. Too cold.
We lived in Talamanca, walked to its harbour front & boarded a water taxi to Ibiza town (it's about 10 min across the port bay). When approaching from Talamanca you are greeted by the old town, the fortress & the cathedral – and this jungle of white houses where there is party during high season in summer (one of the party spots …).
In Ibiza town we focused on Dalt Vila & it's sprawl.
From sea level we walked up to the entrance of Dalt Vila guarded by Roman statues (replicas … of course). The fortress is very well maintained (part of Unesco World Heritage) and when walking the serpentine alleyways to the top you get lots of spectacular views from the ramparts all over the port.
(To be honest I'm not quite sure if I'd made the climb at about 35° C …)
The fortress itself is closed to public, but you can visit the cathedral – a little gem on top of the rocks.
When it's time to leave the historic quarter in favor of the Old Town you may stroll down the hill enjoying occasional views, narrow alleyways & well-kept houses as well as less well-kept houses, however, all of them w/ a certain charm.
… & of course they were some cafés & bars, here & there, already open, waiting for exhausted tourists …
The harbour front seems endless …
Cruising the island meant discovering deserted beaches although I think some weeks later there will be people, people, people … relaxing on the fine sand. We catched a glimpse of quite a lot of these inviting coves shielded by rocks.
The more we went into Ibiza's Northern coast region the more secluded seems the landscape. Here & there are single villas, the roads tend to get smaller & steeper & more winding. Sometimes you spot a water lorry. Villages are … small – a road, some houses …
Some villages have their own church – always there are these white walls.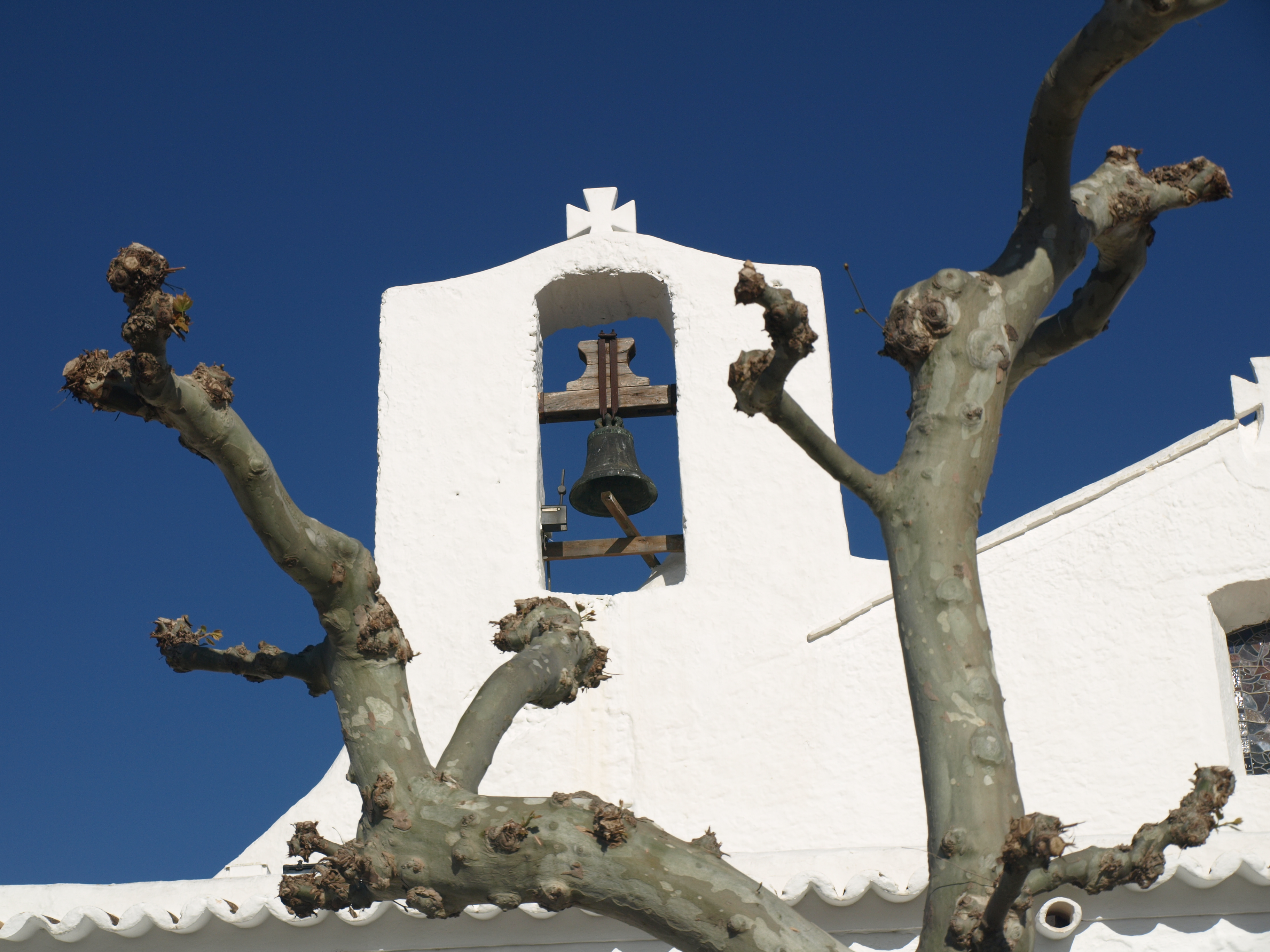 Next to the church in the centre of the village there is a café, a bar, a restaurant where people chill in the afternoon sun. My better half & I chatted about if some of them were hippies – like hippie veterans. We noticed colorful long wide skirts, crocheted waistcoats, leather boots, sun-tanned faces … I was reminded of the 70s & 80s w/ their counterculture. BTW you can also stumble upon them in well-known cafés in Ibiza's old town district … a classic Ibiza bag over the shoulder.
We were always enchanted when coming back to Talamanca to our room w/ a view where we relaxed on our balcony before strolling to one of the bars at the beach.
It was our 1st visit to Ibiza. We enjoyed the week to the full!
… and …
Next to Ibiza there is Formentera, the smallest of the Balearic islands. There is no airport on Formentera. If you want to go to Formentera you'll have to fly to Ibiza & then take a ferry. (We didn't do this during our "short" chill-out-week.)
In the 80s my ex & I went to Formentera more than once – so I was in Ibiza, however, only for touch-down & take-off – and maybe a day trip. In those days Formentera was an island w/ few hotels, few cars, few tourists … & beautiful natural beaches. The ferry was a rather small motor-boat transferring people 3-4 times a day (no space for cars!). Today there are big speed-ferries w/ car load capacities running every hour or so … during daytime.
I am a little curious what had become of my little Formentera! (Maybe we'll make a trip over there soon.)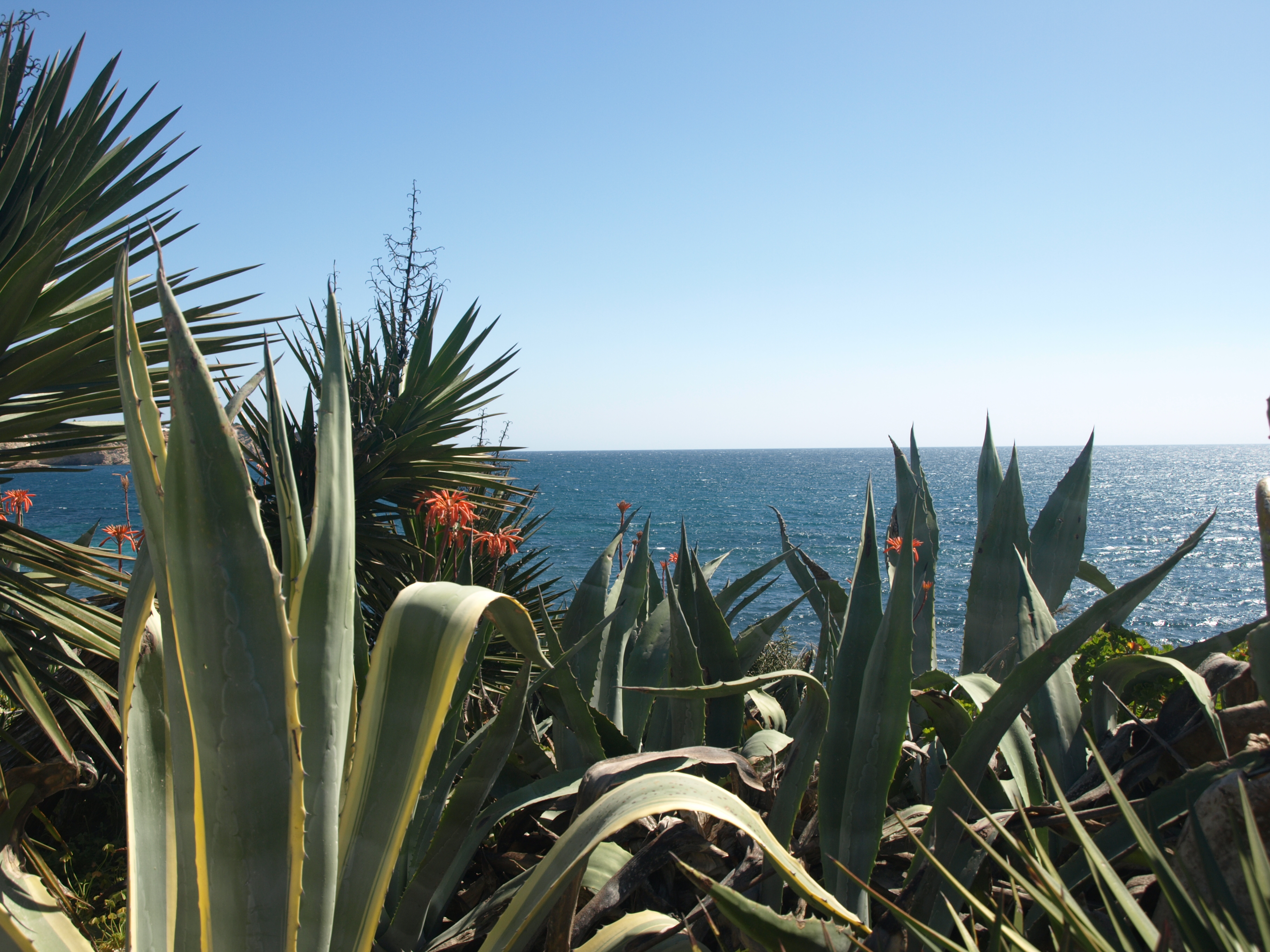 … and …
Ash Wednesday gone & Easter approaches at an incredible rate. Lenten fast started … Everybody talks about modern Lent like loosing weight, dieting, detoxing – in short: getting ready for the summer season.
Another buzz word is digital detoxing which seems more and more relevant – according to lifestyle blogs & gurus behind the scenes – to gain resp. regain your proper work-life balance or simply to shut down & abdicate from any digital life (as a rule for a limited period of time!). Since beginning of 2019 I met the buzz word & corresponding projects all over the social media hemisphere – again & again.
Our week in Ibiza: we packed our bags, locked our home & set off to Ibiza anticipating a blue sky & a brilliant sun, blue ocean, white sands, chilled white wine, tapas galore – and I thought about starting a week devoted to digital detoxing. I'd read quite a lot about these adventures during the last weeks – so well: why not give it a try!
Then I thought: what does it mean?
Making a clean start:
no social media
no e-mail
no messaging
no calls
no videos
no TV watching
no streaming
…
resp. concerning the equipment:
no (smart)phone
no tablet
no notebook
no PC
no e-reader
no TV
no satnav
no D-SLR
…
Sounds pretty easy, or?
Just leave all the gadgets at home … no more seems to be required!
At this moment in time I suddenly paused & concluded that this clean start wouldn't work for me.
Ok: if I planned to go to a beauty & wellness resort (near my home) from Friday afternoon to Sunday afternoon I think I'd just shut down any of my gadgets & leave home w/ a bag full of wellness clothes & an open mind to get pampered all day long. I even could imagine to stay away from reading & listening to (my!) music …
In this case – a whole week in Ibiza – I wasn't sure because my life as well as the life of my better half are well imbedded in lots of digital services. Starting w/ online check-in & boarding cards on our smartphones, books on our e-readers, digital booking confirmation for the hotel, the daily newspaper on my tablet, digital confirmations of credit card bookings etc.
So I decided to set up rules for digital detoxing on my own …
I packed my smartphone, my tablet, my e-reader & my D-SLR. Fine.
I decided:
no Facebook
no Twitter
no Instagram
no Pinterest.
Furthermore:
e-mails …
(I decided only to scan my e-mails by their headline from time to time to sort out messages concerning my bank account, my credit cards, our booked flights … in short: anything that might be important!)
messaging …
(I decided to follow up all my messages on Whatsapp & iMessage because it's always & only F&F … & there are never any message avalanches!)
internet browsing …
(I decided to ignore all blogs – especially everything related to my work as a food blogger … & all the stuff that you usually come across by chance as well as any research fiddling!)
online shopping …
(I decided to do no online shopping – not even for ebooks or music or streaming offer or …)
watching TV …
(During traveling my better half & I are never so much interested in TV – so I thought: let it be!)
Of course I also didn't plan to do anything concerning both of my blogs!
So let's have now a look at the other side of the coin …
What did I do based on digital services?
reading my online daily newspaper
reading books on my e-reader
taking lots of photos w/ my D-SLR & my smartphone
essential administration tasks like checking-in for our return flight etc.
navigating Ibiza based on my smartphone's satnav.
Are there any alternatives?
Ok: I could do w/o my newspaper, however, I had lots of time to read articles unhurriedly. Of course I could have bought a pile of books & grabbed a suitcase of the next bigger size … You may also take photos w/ an analogue SLR … & you may run around w/ a street map …
Since some years I buy only e-books (exception: cookbooks & coffee-table books & tourist guides). It's more efficient because you need no space at home, there's no waste of wood, water, energy etc. for producing paper, printing, storing, transporting … On my e-reader I've always stored about a dozen new books to choice from. (Sometimes I even buy a ebook copy of one of my favourite novels … while the resident books slowly march to online resellers.)
I exchanged my SLR for a D-SLR about 10 years ago – and sold my SLR & all the related equipment recently successfully on Ebay (yes: it took me some time to stomach the acceptance of separation after about 30 years of traveling together …) .
… & I hate folded maps creasing & crumpling in the wind.
At the end I was happy w/ our trip & my approach to digital detoxing. I didn't miss the social media world although I enjoyed browsing my favourite blogs when home again.
I think that a hard-line abstinence of any digital services isn't feasible & constructive nowadays. Of course it seems possible to manage without, absolutely in theory, but let's try to be honest: digital services & social media are part of our bread-and-butter life & they are helpful, simplifying, supporting …
So for now … finally …
Adios, Es Vedrà!