Dieser Beitrag enthält Werbung – advertising.
I like beaches and the sea.
When in Southern France my 1st encounter with beaches was at Valras-Plage. The small town in the department Hérault has a Long Beach, wide & fine sandy, accompanied by a fine seafront (w/o any skyscrapers filled w/ hotel rooms & holiday flats). If you like to sit in a café enjoying some coffee or whatever & watching the beach and waves and the blue sky … it's perfect!
It was then a rather stormy day …
My better half & I, we had in June every now and then a beach day, meaning: we packed some towels and some entertainment gadgets, put on our bathing suits and headed for the beach ending up in one of the beach bars where we rented sun loungers and sunshades – a place like the spot w/ the yellow sunshades surrounded by a solid wind screen
Nothing is more relaxing than chilling in the sun resp. under a sunshade, running into the waves, some swimming & splashing and then just leaning back. In short: beaches w/ adequate equipment are one of my comfort zones.
Next to Valras-Plage there is Sérignan-Plage, another long and wide beach area, however, w/o any buildings … In the hinterland there are only lots of camping & caravan sites. At some points between the dunes there are small access gates to the beach area.
When we walked along the beach … there was the sun – no beach bars! It's a very natural beach!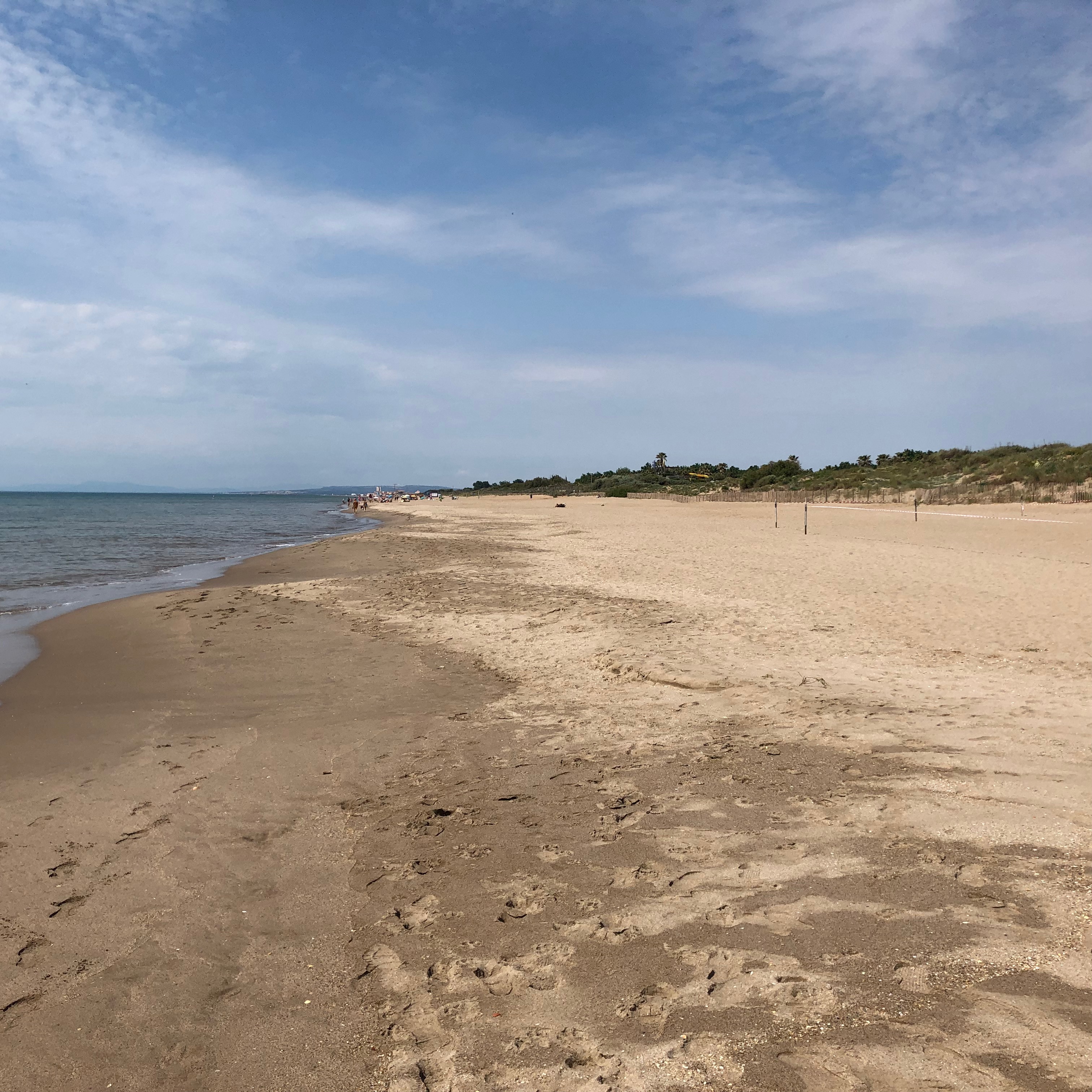 Comfort zones …
Since we are traveling I really miss one of my comfort zones: my kitchen.
You may have realized that there are no new posts about cooking or baking on my blog. (At the moment resp. since some months I work either on technical issues or I streamline some travel posts resp. I rework posts about food …) It's mainly because I'm not so happy w/ the kitchens & their equipment I found in our temporary homes so far.
I always thought that my kitchen was simple, minimalistic, the equipment reduced to what I really needed – so no dispensable equipment or knickknack. This may be, but when I found myself in another kitchen – I suddenly missed all my familiar environment.
There are pots & pans, but they are too big or too small, or simply scrap like pans w/ deep scratches in the non-stick coating. I never would have imagined that there are kitchens where there is no strainer for cooked pasta! As a rule baking equipment is generally poor (no kitchen scales or measuring cups or baking tins) … not to speak about gadgets like a garlic press or egg whips or sharp knives …
What to do? I adjusted my cooking (almost no baking!) to my new setting.
However, creating a post? In my kitchen there is a big window – so my kitchen is filled w/ light, bright daylight. I always take photos of my cooking & baking results on my kitchen table. Nowadays this doesn't work out because my present kitchens are rather small & rather dark. (It won't help to do photos in the living-dining area …)
… & finally I made a very unsettling operating experience!
I admit that I'm only about 160 cm, but I never had any stress in my kitchen w/ the height of my kitchen counter (which is of normal, standard height to me i. e. not extraordinarily low!). I learnt that there are kitchen counters which are about 10 cm higher than mine … and experienced tiring cooking preparations. It's very extraneous to work at a counter too high …
In short: I lost my comfort zone for cooking & baking – and that's why I think hard now about my minimum needs in a kitchen! (You may also assume that I'll try to universalize the issue like How to create recipes for any kitchen? or How to start setting up kitchen equipment? – for further posts on my blog.)
Coming back to the beaches …
We are now in Northern Spain where the beaches are restricted to bays & coves – and obviously are filled w/ lots of people – not only with fine sand.
This is a view of Playa de Fenals, where people not only enjoy the beautiful curve of the beach, but also the adjoining rocky area.
… and more equipment waits for the avid beach freak …
Of course you may also relax in a beach bar, set back at the edge of the sand, watching the action in front of you – like the lonesome lifeguard!