Dieser Beitrag enthält Werbung – advertising.
What happened?
I opened my fridge & learnt that there were some leftovers … vegetables to be correct. Carrots & spring onions. Also in my pantry there were some potatoes … & in my freezer I had some frozen peas. In each case it wasn't so much … not enough for whatever …
So I decided to make a real big batch of mixed vegetables!
Next morning when shopping I bought a big kohlrabi & mushrooms; both are going well w/ the rest.
So – there's nothing fancy!
Plain carrots – not any colorful fancy carrots heirloom type, however, organic
Frozen peas (fresh peas are only available in June/July …)
Plain mushrooms – not any exquisite rare type, however, organic
a simple kohlrabi, however, fresh & crisp & juicy
waxy potatoes – no heirloom type, however, organic
fresh & crispy spring onions
I started w/ preparing the vegetables.
… & before we really start:
∗ ∗ ∗   NEWS   ∗ ∗ ∗   NEWS   ∗ ∗ ∗   NEWS   ∗ ∗ ∗   NEWS   ∗ ∗ ∗   NEWS   ∗ ∗ ∗ 
Always Wanted to Be    
by    Lyme16    on iTunes, amazon, Spotify, YouTube …
(Just 17 years old, his 1st song & our friend Michelle's son!)
Frozen peas are frozen peas are frozen peas … nothing to peel, to trim or whatever.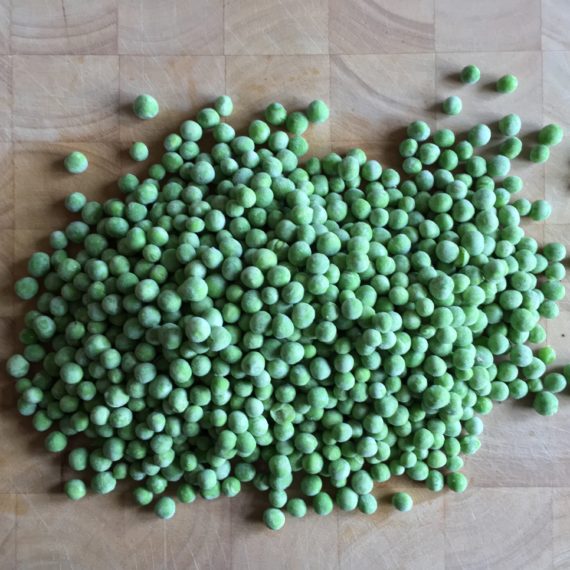 I trimmed the carrots, peel them & cut them into lengthwise into quarters. Then I chopped the bunch.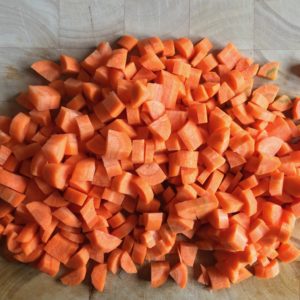 I trimmed the kohlrabi & peeled it. Then I cut it into slices & diced the slices,
Next task was trimming & peeling the spring onions. Afterwards I just chopped them.
Finally the potatoes: Trimming, peeling & chopping.
… oh … the mushrooms! Just chop them!
I had 2 pots w/ water & salt:
Pot 1:
I combined carrots, kohlrabi & spring onions & brought it to a boil. As soon as the carrots started to be soft (about 10 min!) I added the frozen peas. Now there is no boiling anymore – however, after some minutes … let the mess boil for 1-2 min: then its fine & you can pour the mess in a colander.
Pot 2:
I combined potatoes & mushrooms, brought it to a boil … & after some minutes (about 15 min) all is fine & marches into the colander.
Mix everything in the colander & let it cool w/ cool water.
It's fine. We are ready for further adventures.
It's quite a lot so put it into containers & store in your fridge. It'll be fine for at least 1 week. (I worked w/ the vegetable mix during the next week because … home office phase … no lunches in a canteen … all meals at home … (We live in Corona times.). It is a fine base for different meals. It's really worth spending the time for preparation of a real big batch!)
For the record:
You may also add cauliflower, green beans, ( … any beans), asparagus … whatever chills in your fridge, on your kitchen counter or in your freezer – mostly leftovers from lunches or dinners. It's a cool try to clear your pantry & fridge w/o discarding anything.
So: what to do w/ the prepared vegetables?
For dinner the day I'd prepared the vegetables I had two fine chicken breasts. I fried some chopped onions, added the chicken breasts & let it cook for about 10-15 min. I reheated some of the vegetable mix, added some butter & fresh parsley. As soon as the chicken seemed ready for serving I saved the chicken breasts onto a plate & added the vegetables to the fried onion. Mixing, mixing … adding the chicken once more … mixing. From last roasted chicken adventure I had some sauce left (frozen) which I also reheated … Then I arranged everything on 2 plates & dinner was ready!
(Sorry – no photos!)
For lunch the very next day I chopped the leftovers of the chicken breasts & added abut 400 ml duck stock. About 50 g pasta & about 200 g vegetable mix marched into the pot … & 10 min later we had a delicious noodle soup w/ chicken & vegetables or a delicious vegetable soup w/ noodles & chicken. It made 2 portions sophisticated w/ fresh parsley.
Twice during the following days we had frittata. Just put some olive oil in a frying pan & fry some chopped onion & bacon. Add a layer of mixed vegetables (about 400 g – the basic layer not too thick!). Whisk 4-5 eggs & pour into the pan when the vegetables are hot. Grate some Gruyère (about 20-30 g) & distribute evenly; then let it just bake at low temperature. (Add a lid!) The frittata is fine w/ some mixed lettuce leaves … for lunch or dinner.
… & I also prepared a vegetable salad. I chopped cornichons & fresh spring onions & mixed everything w/ my vegetable mix. The dressing was whipped w/ Greek yoghurt, olive oil, lemon scented oil, a finely chopped hard-boil egg … Voilà a vegetable salad! I found 2 fish fillets in my freezer, coated them w/ a mix of egg & breadcrumbs & throw them into the frying pan. So we had a quick & easy lunch w/ baked fish & a substantial salad.
Enjoy!
Print Recipe
what to do w/ dull vegetables?
ingredients:
6

carrots

(about 500 g)

1

kohlrabi

(a big one!)

400

g

peas

(frozen)

5

waxy potatoes

(about 500 g)

250

g

mushrooms

4

spring onions

2

tsp

salt

(divided)
how to:
Trim & peel the carrots; cut them lengthwise into quarters & chop the quarters.

Trim & peel the kohlrabi; cut it into slices (about 5-6 mm) & chop the slices.

Trim the spring oinions & peel if necessary; cut them lnegthwise & chop.

Put everything in a pot, cover w/ water, add salt & bring to a boil.

After about 8-10 min add the frozen peas; bring it to a boil again & let it boil for about a minute. Drain in a colander.

In the meantime (when the 1st part is boiling!) peel & trim the potatoes; chop them like the carrotts i. e. same size.

Put the potatoes in a pot, cover w/ water, add salt & bring to a boil.

Trim & chop the mushrooms.

Add the chopped mushrooms to the potatoes after 5 min of boiling & boil for about 10 min. Then drain in the same colander.

Mix the cooked vegetables & store in an airtight container in your fridge.
Notes
Vegetables: all amounts before trimming & peeling!
The vegetable mix can be stored up to a week in your fridge.