Dieser Beitrag enthält Werbung – advertising.
Another day – another approach to one-pot-pasta!
Today we are dealing w/ pasta in a thickened mix of fish, tomatoes & onions flavoured w/ thyme.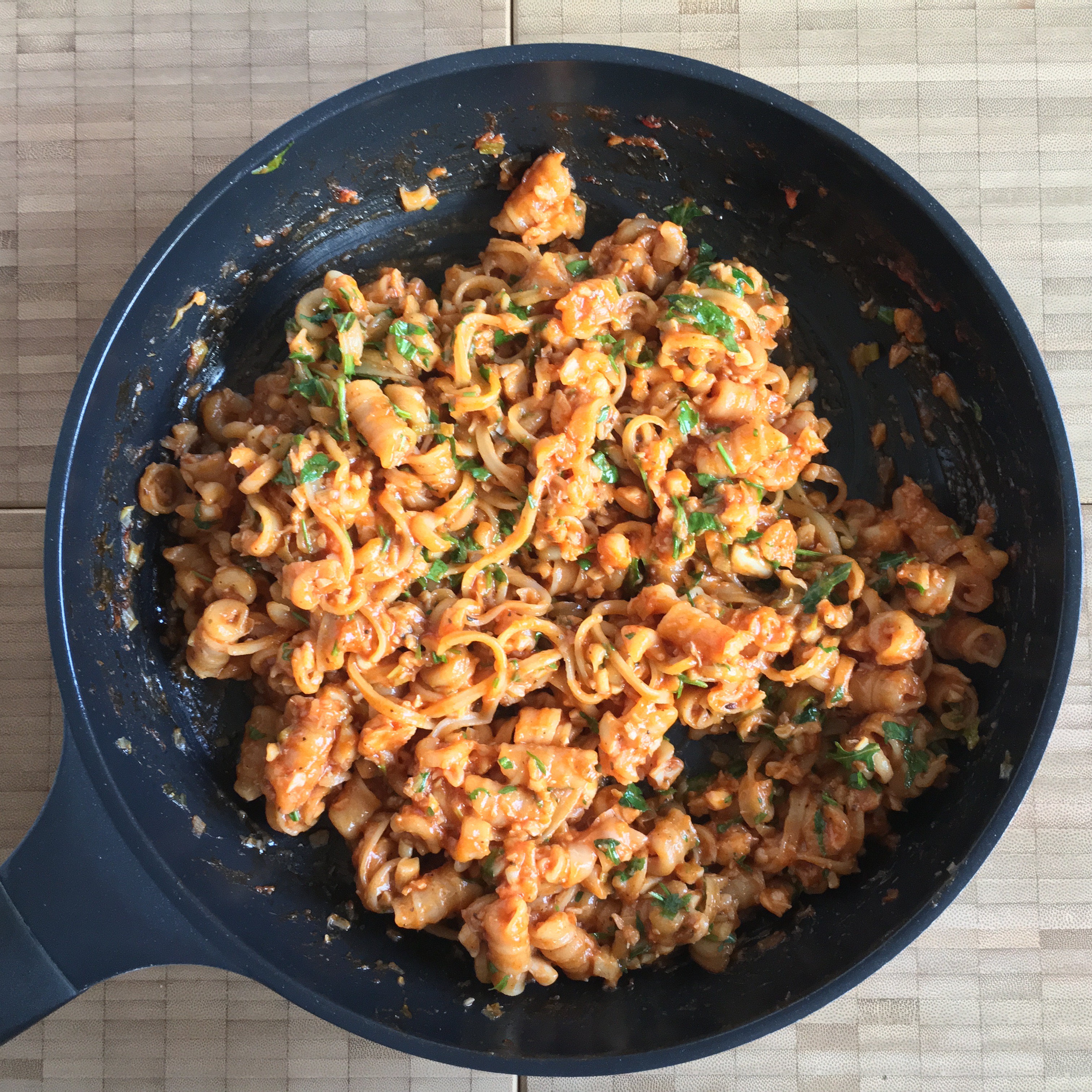 In my oldest Italian pasta cookbook (Vincenzo Buonassisi "Nudel & Nudel" – have a look at the last book on my cookbook page!) there's a recipe called Tagliatelle "Belle Epoque" w/ homemade tagliatelle, sole fillets, tomatoes & thyme, onions, cream, brandy… (The recipe says you may substitute plaice for sole fillets & tomato purée for fresh tomatoes.)
I often made it w/ store-bought spaghetti or tortiglioni…, w/ plaice, tilapia… it was always delicious. So I decided to give it a try as one-pot-pasta.
What do we need?
Not so many ingredients:
tiplapia fillets
riccioli & water
spring onions
dried thyme & a bay leave
tomato purée.
1st step: chopping the spring onions & the fish fillets.
Take a pan: the spring onions are fried w/ olive oil, thyme & bay leave for some minutes.
Add the fish fillet & fry for some more minutes. Add salt & pepper to taste.
Add the pasta, the water & the tomato purée – maybe a pinch of sugar. Bring the mess to a boil & stir once in a while until the water has almost vanished, the pasta is soft & starts uncurling.
Once again add salt & pepper to taste. You may also add some cream at this point – if you like & think it's too dry:
The result is a creamy pasta dish w/ almost melted fish fillet!
(You should definitely look for the bay leave & discard it – last chance!)
To add some fresh sharp kick just take a handful of arugula, chop it & mix it into the pasta.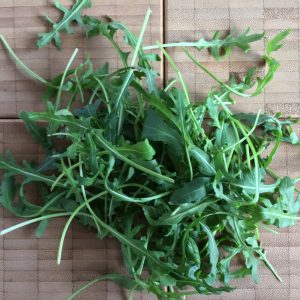 Enjoy!
Print Recipe
pasta & fish: in-one-pot!
It's a pasta dish w/ spring onions, fish & tomato purée - rather sticky w/ little bits of fish.
ingredients:
150

g

pasta

riccioli

200

g

fish fillet

tilapia

5

spring onions

1

can tomato purée

about 70 g

a pinch of sugar

1/2

tsp

dried thyme

1

bay leave

3

tbsp

olive oil

500

ml

water

salt & pepper

a handful rocket/arugula - optional

some cream - optional
how to:
Dice the fish fillet & make sure that there are no bones left.

Chop the spring onions.

Add olive oil, thyme, bay leave & spring onions to a pan & start frying for about 3-4 min.

Add fish fillet & salt & pepper.

Fry for about 5 min until the fish starts disintegrating.

Add pasta & tomato purée & sugar & warm/hot water & bring to a boil.

Mix well & let it boil for about 10 min.

Stir every now & then.

Remove the bay leave & discard it.

As soon as the water is soaked by the pasta turn off the heat - be careful: the pasta should not stick to the bottom of the pan.

Add salt & pepper to taste.

optional: If you think it's too dry add 2-3 tbsp cream.

optional: Chop some rocket/arugula & mix in the pasta mess.
Notes
Pasta: You may use any pasta like riccioli.
Fish fillet: You may also work w/ cod or redfish or plaice or sole - just take one of the classic fish fillets.
Pepper: I like a lot of pepper in this pasta, however, it's up to you...
Arugula/rocket: the freshly chopped arugula adds some sharp edge to the dish.
At 1st glance the riccioli seem rather tough, however, when boiled they uncurl into short small taglierini. The fish fillets are soft from the very beginning & almost dissolve… it's the basis of the creaminess. (You've noticed that there isn't any grated parmesan, pecorino, gruyere… involved!)
Water, water, water… Until now I always used simple, clear water for my one-pot-pasta. No stock. If you use ingredients w/ rich, strong flavours (like South Tyrolean bacon & pecorino, like lots of fish fillets & "concentrated" tomato purée…) you won't need to enhance your one-pot-pasta by using any stock instead of water.
The businesswoman w/ too many office hours thinks
Another quick & easy dinner: seems… apart from the arugula there are only ingredients which are in my pantry or my freezer – seems an option for anytime!