It's autumn now & the pumpkin/squash season is starting… nevertheless there are also still green beans fit for a rich autumn salad.
So we start w/ a bunch of beautiful fresh green beans…
…& in addition we need:
dried savory for the beans
olive oil & balsamic vinegar
spring onions
cornichons
hard-boiled eggs
tuna & mayonnaise for the creamy dressing.
We start w/ trimming & cutting the beans. Then the beans march in boiling water together w/ some salt & dried savory – let them get cooked for about 5 min for real "al dente" beans. Then drain them & let them cool by help of cold water.
We cut the cornichons lengthwise as well & chop the spring onions.
We boil the eggs & cut them w/ an egg-slicer.
We rescue the still warm cooked beans in a big bowl.
We combine olive oil, balsamic vinegar, salt, pepper & spring onions.
We combine the beans & the dressing & mix well.
Finally we add the cornichons…
For the tuna cream we just put tuna, mayonnaise, salt & pepper in an appropriate bowl & start blending w/ a handheld blender until there is a fine creamy mess.
Drain the beans once more to skip remaining liquid. Add the tuna cream & mix. Fold in the egg slices.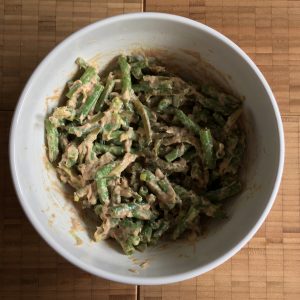 Voilà!
green beans w/ tuna cream
A salad made w/ fresh green beans, tune & eggs - a full meal!
Ingredients
500 g green beans
1 tsp dried savory
100 g cornichons
3 spring onions
1 tbsp olive oil
1 tbsp balsamic vinegar
140 g canned tuna (i. e. 1 can) in olive oil
2 tbsp mayonnaise
4 eggs
salt & pepper

equipment:

a handheld blender
How to...
Boil the eggs to get real hard-boiled eggs & peel them.
Clean the beans, trim the beans & cut them once or twice.
Bring water w/ salt & savory to a boil.
Add the beans when boiling & cook for about 5 min.
Drain the beans & cool them in cold water.
Chop the spring onions.
Mix olive oil, balsamic vinegar & spring onions; add salt & pepper.
Mix w/ the beans.
Slice the cornichons lengthwise & add to the beans.
Drain the tuna roughly; some of the olive oil won't do bad.
Add mayonnaise & salt & pepper.
Blend w/ a handheld blender like hell - until it's a thickly creamy mess.
Drain the beans once more to dispose of too much liquid from cooking the beans as well as the olive oil-balsamic vinegar mix.
Add the tuna cream to the beans & mix all well.
Slice the hard-boiled eggs w/ an egg-slicer & add to the beans i. e. fold in carefully.
Serve at room temperature.
Notes
Prep Time: includes also cooking the beans (in parallel to any other preparations).
Cook Time: 5 min for the beans means that the beans are "al dente". If you prefer softer beans cook them for up to 10 min.
Mayonnaise: You may substitute mayonnaise by sour cream (20%).
The salad makes 4 big servings (as a main w/ lots of crispy bread) or 6 smaller servings (as a side dish w/ meat or so).
The salad is fine in the fridge for at least 2 days.
https://thebusinesswomanskitchen.de/green-beans-w-tuna-cream/
© Copyright 2015-2019 Christine Steinbach (The Businesswoman's Kitchen). All rights reserved.
It's a rich salad best w/ lots of fresh crispy baguette!
(That's all: no more comments from me!)
The businesswoman w/ too many office hours thinks
It's quite a lot of work – or? The recipe says 45 min, but I think I'll be busy whole of the time. I'll think twice before starting, but it looks delicious & it's a full dinner: worth a try!