Dieser Beitrag enthält Werbung – advertising.
One of my favorite blogs Lady and Pups created a blog category called THE SHITS I EAT WHEN BY MYSELF. (Here she presents all the recipes she cooks fast & easy for herself when hungry, feeling cold, feeling alone, distressed, stressed out…) When doing this fennel mess for the umpteenth time I realized that this is a candidate for such a category – if I ever had such a category!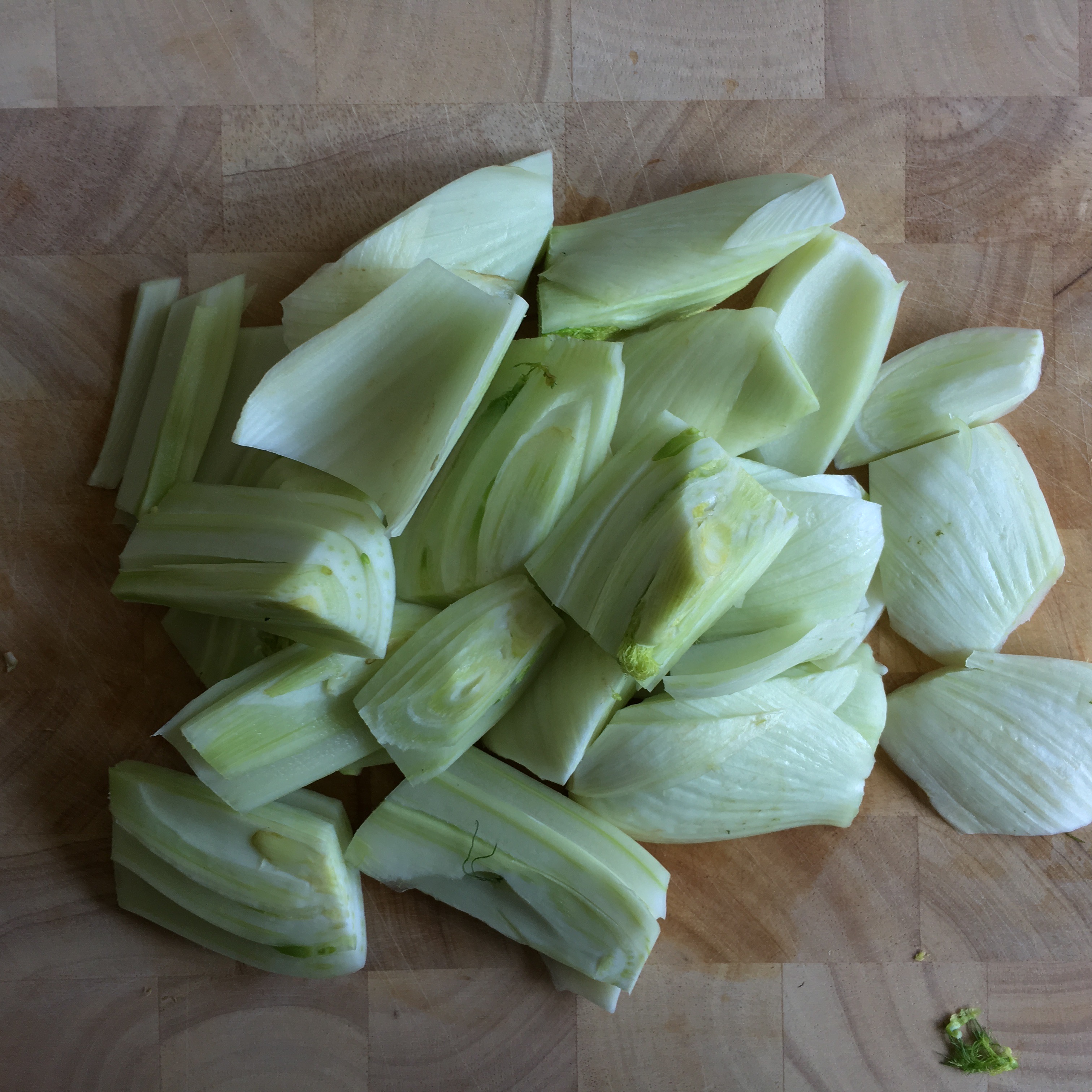 What is it about?
It's only about grabbing some vegetables, some meat & then just fry it…
It'll be something for a bowl to be eaten at once… filling your hungry self!
So…
What do we need?
It's only:
fresh fennel
spring onions
minced beef.
Just clean & trim the fennel. Put aside the fennel's green.
Chop the spring onions – not too small, not too roughly.
Chop the fennel – as fine as you can… Discard the trunk – it's too hard!
Then put everything in a pan w/ some olive oil & fry. Add the minced beef & fry somewhat more.
The mess is ready when the fennel seems soft & the meat is well done. (Maybe you get the feeling that it's too dry… then add some splashes of water & continue frying!)
Add salt & pepper to taste.
So once again:
The mess is ready when well done & slightly brown.
If you like you may add 1 tablespoon of dark or light soy sauce!
Enjoy & dig in!
Print Recipe
finocchio's mess
It's very simple comfort food: easy to prepare, only some chopping and frying, however, delicious and filling and... just try it when coming home from work! Basically you won't need more than some fennel bulbs and some minced meat...
ingredients:
250

g

minced beef

3-4

fennel

about 650 g gross weight

3-4

spring onions

olive oil

optional: 1-2 tbsp soy sauce

light or dark

salt & pepper
how to:
Clean & trim the fennel; it should be about 300-350 g fennel net weight.

Chop the fennel as thin as possible.

Add olive oil to a pan.

Fry the minced beef & crush it.

Add chopped fennel & let it fry softly for about 15-20 min. Add some splashes of water if it seems too dry.

Increase the heat & fry at high temperature for another 5 min until crisp.

optional: Add soy sauce.

Add salt & pepper to taste.
Notes
Minced beef: You may also use minced pork or a mix of minced beef and minced pork.
You may add some cooked rice for serving.
You may store it in the fridge for up to 3 days (especially when you are all by yourself...).
You may add the fennel's green…
You may also add some cooked rice as a basis or aside…
…& you might replace minced pork for minced beef or a mix of both… or any other minced meat…
You may add some more spring onions or just omit them.
You may take more meat or more fennel – it's up to your preference (or whatever you'll find in your fridge (or at your trusted 24/7 deli!)).
The businesswoman with too many office hours thinks
Yeah – finally we've arrived at the point when you are coming home, hungry, maybe cold… & all you ask for is fast & easy dish comforting you!
Okay: you need some fresh minced meat & fennels… but the rest is no sophisticated cookery, but only chopping & frying!