Dieser Beitrag enthält Werbung – advertising.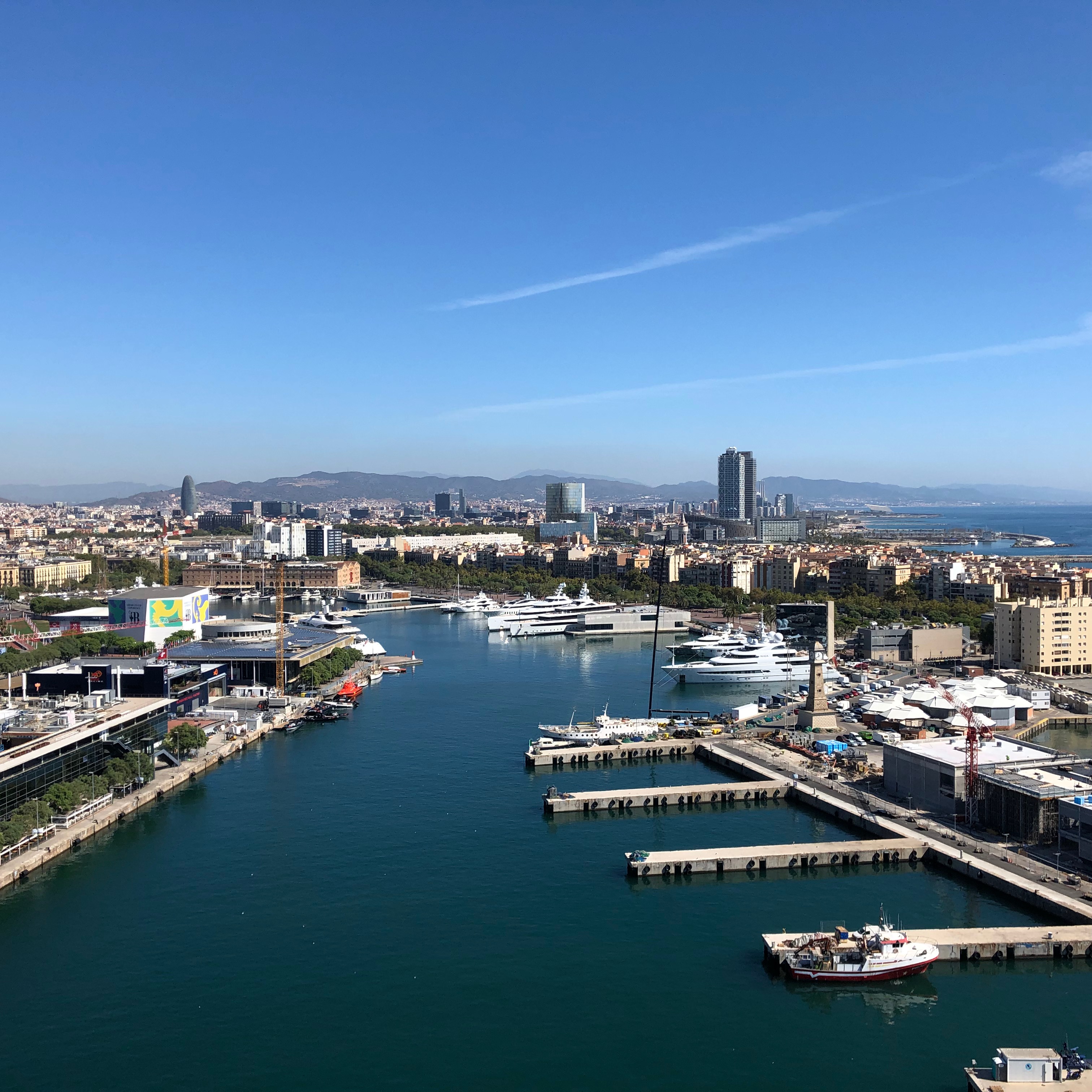 We are still in Northern Spain – now our home is at Castelldefels in the area of Greater Barcelona. There's a suburban train which takes us in about 40 min to Barceloneta with Barcelona's Port area i. e. part of it.
It was one of these magic days with a magnificent blue sky … when we made our way from the train station Estació de França to the Transbordador Aeri del Port aka Barcelona's Port Cable Car. The photo above gives a view of the quarter.
We accessed the tower by a lift and waited for the next Cable Car which arrived quite soon.
Have a look at the Mediterranean Sea & the beach in the background.
Slowly the Cable Car swings along the port … lots of opportunities for photos. (You'll find more in my Instagram account!)
Finally we reach the other side of the bay … back over ground again.
There is the Columbus Monument marking the end of La Rambla, the famous boulevard leading to the coastline from central Barcelona, and the begin of Passeig de Colom, another broad boulevard along the coastline. The monument is a reminder that Christopher Columbus reported to Isabella & Ferdinand, the sovereigns, after his first trip to America right here in Barcelona. (I'm sure you are familiar with the movie 1492 – Conquest of Paradise by Ridley Scott!)
Barcelona's Port Cable Car ends in the Jardins de Miramar, part of Montjuïc, a mountain amid the urban area of Barcelona.
We walked down to the next Metro station …
… admiring some great views of Barcelona – especially La Sagrada Familia.
… and our trip continues …
At the Metro Station of Paral·lel starts the Funicular de Montjuïc, a cable railway, which took us halfway up the mountain. Subsequently we changed into Teleferico de Montjuïc, which took us to the top. We were much higher on Montjuïc now as before when leaving the Port Cable Car.
On top there is the castle, the Castell de Montjuïc, once a defense fortification, then a prison. You may walk around the site and get great views of Barcelona. However now some impressions of the castle.
From the top of Montjuïc the urban density of Barcelona is overwhelming!
Look out for the protruding La Sagrada Familia – and La Rambla, this thin green line …
… and finally nothing was left than returning – into the urban mess of Barcelona & home to Castelldefels!
As a whole – from home, back home – we spent about 6 hours for our trip through the air & up to the top of Montjuïc. It was a great experience.