Dieser Beitrag enthält Werbung – advertising.
We are still in Southern France – and sometimes I reinvent a recipe from my blog.
This time … Do you imagine that in Southern France there are lots of types of frying sausages? Honestly, I was surprised at the variety. There are thin sausages, thick sausages, short & longer than a meter … also gentle seasoned as well as really hot – and all spicy variations in between.
So we often bought some sausages … & I remembered a recipe on my blog. It came from an Italian cookbook about tomato sausages accompanied by some pasta. I started w/ the recipe on my blog … made some adjustments, but basically it worked.
Now for a start – the original recipe from my blog!
We won't need so many ingredients:
salsicce
carrots, celery & onion
canned tomato pulp
fresh thyme from my window sill.
… and pasta – big rigatoni!
The preparation is easy …
Just:
cut the salsicce into pieces (not too small!)
clean, trim & chop the vegetables.
I started w/ frying the vegetables in some olive oil & took care not to burn the mix.
I plucked the thyme leaves (about 2 tbsp). Once the vegetables were soft I added the thyme leaves.
I prepared the tomato pulp by adding a pinch of sugar, a pinch of ground chili & 2 cloves.
Then the salsicce are browned …
Finally everything ends up in a pot. Bring it to a boil … as soon as the tomato pulp starts bubbling reduce the heat to simmering … & let it simmer for about 2 h.
Ready.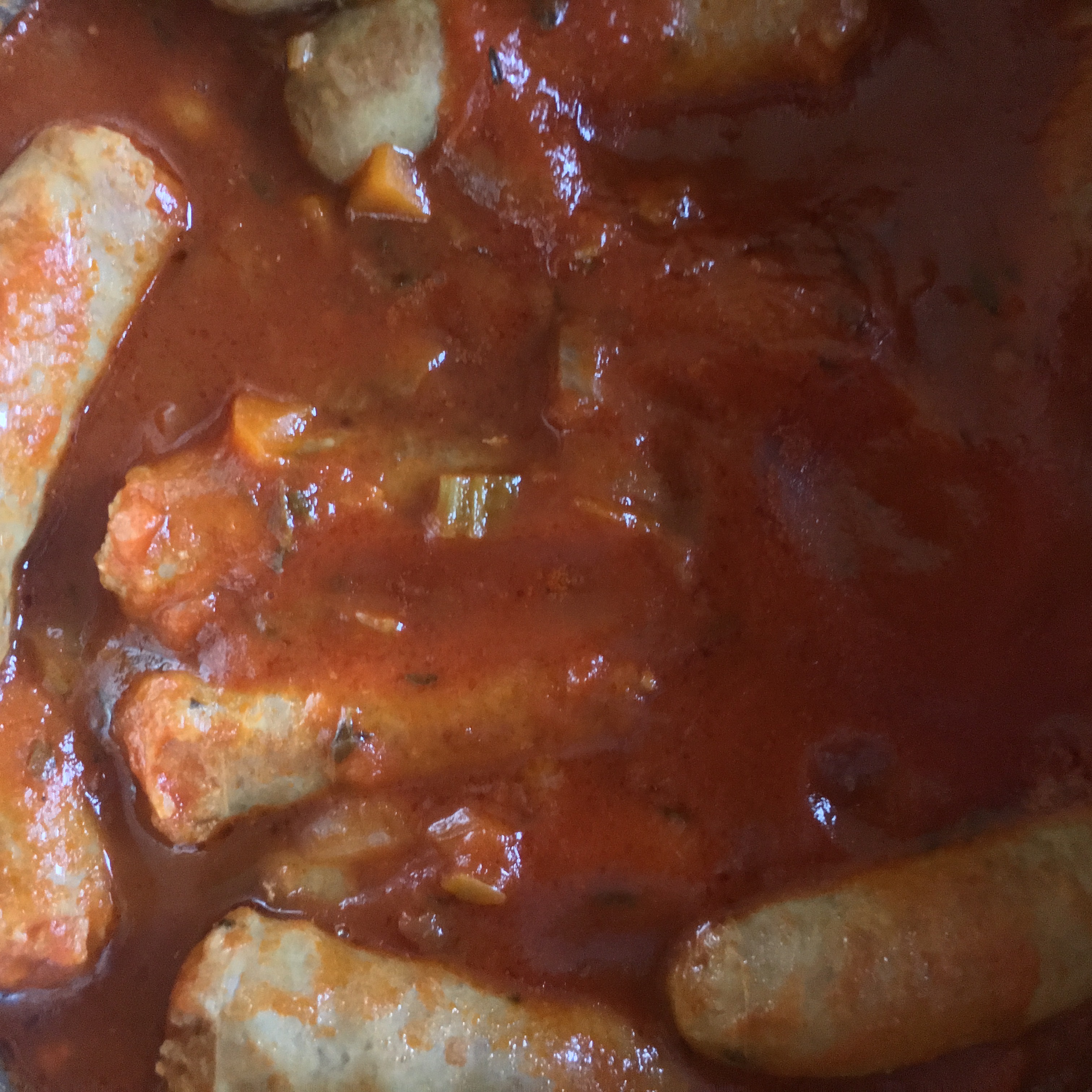 Back to the recipe in the cookbook:
The recipe was for 6 persons based on 1.200 g salsicce & pork ribs at equal parts. This is quite a lot! The cookbook also defined gnocchi as side dish – of course hand-made, home-made gnocchi.
Back to the recipe on my blog:
I reduced the meat part to the salsicce (about 600 g). In reality I started w/ about 700 g salsicce & the result was enough for at least 4 people – I think even 5 people could have enjoyed it …
My better half & I we are no gnocchi fans (as well I wouldn't give a thought to making gnocchi from the scratch). Instead we opted for pasta … I can also recommend just to add some fresh bread: it's delicious! (… & you can wipe off all the spicy tomato sauce w/ your bread afterwards!)
Coming now to my approach in Southern France:
I worked with salsicce-like sausages (about 300 g for 2 people), carrots & onions … Instead of fresh thyme I used dried herbs of Provence.
What do you get at any approach?
Think of sausages in almost bite-sized pieces, absolutely soft & mellow w/ a spicy flavour that is allover the tomato vegetable mess! Be careful: you need only very few ground chili because the salsiccia is spicy on its own!
Then before serving: just cook some pasta …
Enjoy!
Print Recipe
tomato sausages in southern france
ingredients:
about 600 g salsicce

Italian pork sausage

400

g

canned tomato pulp

a pinch of sugar

a pinch of ground chili

2

cloves

fresh thyme

about 2 tbsp leaves only

2

tbsp

olive oil

1

big onion

2

carrots

1

stalk of celery

salt & pepper
how to:
Chop the carrot, the celery & the onion & start frying in the olive oil – careful: don't burn anything!

Add salt & pepper to taste.

Cut each salsiccia into 3-4 pieces.

Pluck the thyme leaves.

Add sugar, ground chili & cloves to the tomato pulp.

As soon as the the carrot-celery-onion mix is soft (about 10 min frying) put it aside & mix w/ the thyme leaves.

Start frying the salsicce until allover brown (about 10 min).

Combine everything in a pot: the salsicce, the carrot-celery-onion-mix, the tomato pulp & mix.

Bring to a boil, however, reduce heat as soon as the tomato pulp starts bubbling.

Put a lid on the pot & let it simmer for about 2 h.

Discard the cloves – if you find them. Otherwise give a warning to everybody at the dinner table.
Notes
Prep Time: It's chopping the vegetables, preparing the salsicce etc as well as frying the vegetables & the salsicce.
Cook Time: Simmering the mess until ready for serving.
Salsiccie: You may substitute salsicce for German sausages, i. e. bratwurst – however, add some more ground chili for the spiciness. (You may also grab some Spanish merguez or any other frying sausage available!)
You may store any leftovers in the fridge for up to 2 days. Reheat in the microwave.
You may also freeze any leftovers.
MerkenMerken
MerkenMerken
MerkenMerken
MerkenMerken
MerkenMerken
MerkenMerken
MerkenMerken
MerkenMerken
MerkenMerken
MerkenMerken