Dieser Beitrag enthält Werbung – adverstising.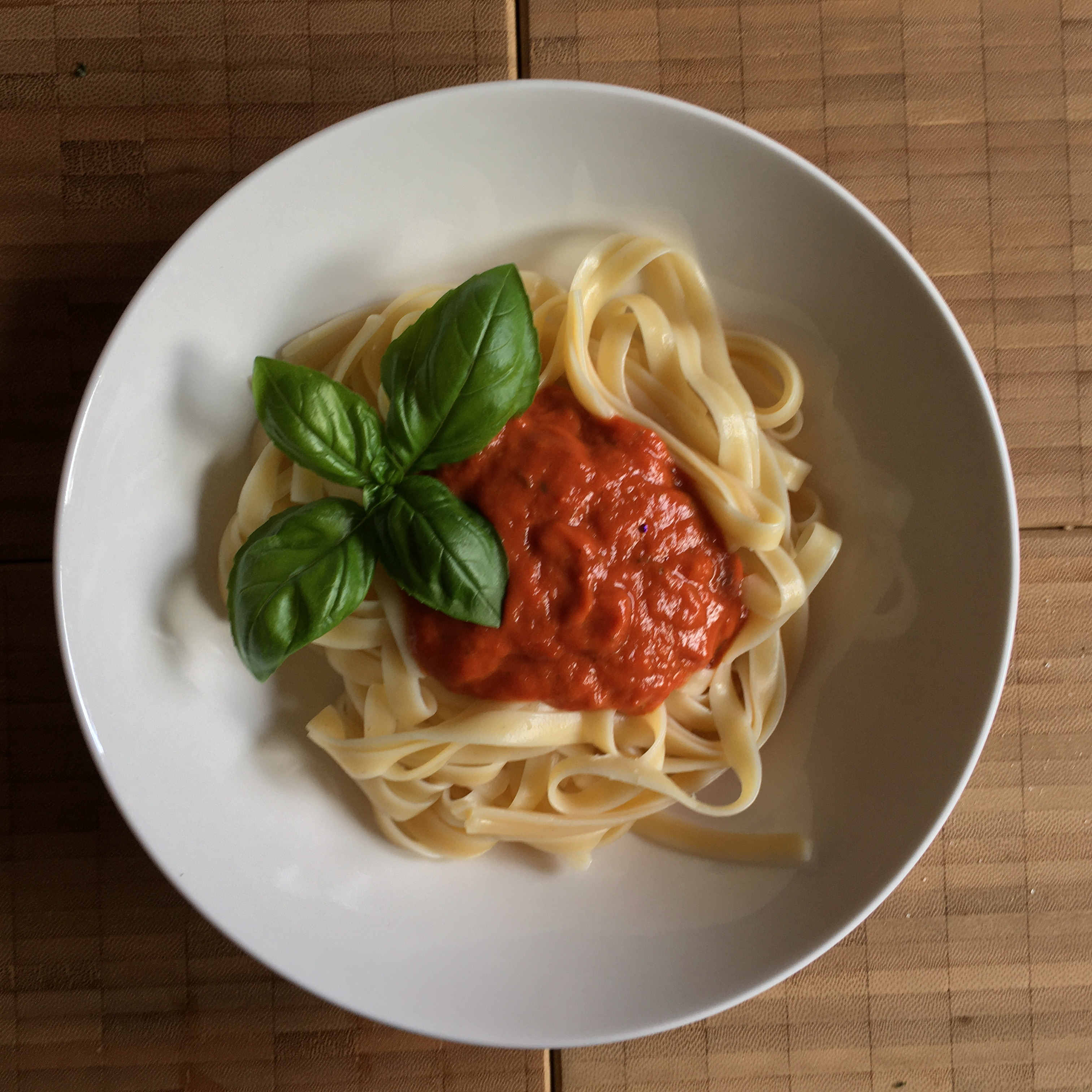 This photo w/ fresh pasta & my home-made tomato sauce is real & up-to-date w/ this post. It is one of the most trivial photos in the food blogging universe (I think). It is simple: apart from cooking pasta – I always use classic Italian pasta made only from flour (durum wheat) & water – you only need a good tomato sauce & all is fine. A photo presenting the result is always a hit!
I wrote about tomato sauce several times on my blog … it's a never ending story. How to produce a fine home-made tomato sauce? (Of course you may also walk into your trusted food store & buy a glass of nice tomato sauce – believe me: there are products you'll really like …).
I made several approaches to tomato sauce mainly induced by reading recipes about tomato sauce in a lot of cookbooks resp. on food blogs. There are very simple approaches … & there are sophisticated procedures taking hours & hours of preparation & cooking. (I'm cleaning my blog up since some weeks (work ongoing!) so some of my very old posts about tomato sauce have vanished into thin air …)
Comparing all these trials from working from the scratch to using some ingredients already ready for use … I think that I finally found my recipe. The advantage: you may always produce a lot of tomato sauce w/o having a time problem (i. e. doubling the amount of the ingredients doesn't mean doubling the time for cooking – however, you should think about the capacities of your casseroles …) & keep it in your fridge for further use for some weeks – fine tomato sauce never lasts so long!
This is the basic outcome of the cooking process … tomatoes, tomatoes, tomatoes!
I like to remind you that I'm talking about a tomato sauce – no sofritto. Of course you may:
Add a proper amount of sofritto (fried onions, garlic, celery, carrots – maybe some bacon, some anchovies …) to the tomato sauce.
Add some fried minced beef.
Add some fried vegetables (if peppers, if courgette, if eggplant, if peas …).
There are lots of possibilities when thinking about pasta & pasta sauces based on a fine tomato sauce. I admit that I often prefer just the tomato sauce & some freshly grated parmesan or pecorino on top of my pasta.
Now let's start!
We start w/ a lot of tomatoes. The main point: the tomatoes must be ripe. It doesn't matter what size … you may also throw together small cherry tomatoes, big beef tomatoes, grape tomatoes, heirloom tomatoes … simple red tomatoes … whatever. For the sake of the color of the tomato sauce stay w/ red ones.
At first preheat the oven to 175° C w/ fan.
Next step: grab a casserole big enough for the amount of tomatoes.
The tomatoes are cleaned & trimmed. I only used small tomatoes: so I cut them into halves. If you use larger once just cut them into 4 or 6 pieces (or whatever).
My better half & I don't like lots of pits & mush. That's why I pressed out the tomatoes & discarded the most of the pits & mush. You may skip this step in the preparation process if you don't bother about pits & mush.
For flavoring:
olive oil
balsamic vinegar
sugar (it's brown sugar so far – you may also use white sugar, honey or sugar syrup or …)
fresh garlic
dried red chili
fresh thyme (or any other fresh herb from the Mediterranean region).
The tomato purée will come into action after the often session.
Herbs, garlic & chili are cleaned, chopped, crumbled & mixed into the tomatoes together w/ the olive oil, the balsamic vinegar & the sugar.
Concerning garlic & chili: use as much as you like. We like it a little garlicky & a little hot, however, neither shall dominate the sauce.
The casserole marches in the preheated oven & all is baked for about 30-40 min. Finally you get a sizzling, bubbling mess which will be mixed w/ the tomato purée.
Now prepare your electric blender – the tomato mess should have cooled down a bit. Just blend it until you get a smooth thickly red sauce. (You may also use a handheld electric blender, but make sure that the tomatoes are in a high pot before starting the handheld blender … It isn't any fun to have to clean your kitchen afterwards!)
I started w/ about 1000 g of tomatoes & I got about 600 ml tomato sauce. This will be enough for 4 pasta dinners for 2. Okay: it's always depending on your appetite – maybe it's less!
The tomato sauce may be stored in your fridge for some weeks: I think once I had some rest for about 3 weeks – and it was still fine. (What shall happen in a fridge (in the fresh section) w/ a properly cooked sauce in an airtight container thoroughly cleaned before pouring in the tomato sauce?)
Enjoy!
Print Recipe
stocking up on tomato sauce
ingredients:
1000

g

tomatoes

2

cloves of garlic

1

dried chili

a

handful

fresh thyme

4

tbsp

olive oil

2

tbsp

balsamic vinegar

70

g

tomato purée

(1 small can)

1

tbsp

brown sugar

salt & pepper

(to taste)
equipment:
casserole (Ø 22 cm)

electric blender
how to:
Preheat the oven to 175° C w/ fan.

Clean & trim the tomatoes. Cut the tomatoes into halves & press out the pits & the mush.

Choose a casserole large enough for the resulting tomato mess.

Peel the garlic & chop roughly.

Clean the fresh thyme & chop roughly.

Crumble the red dried chili; discard the pits.

Add the olive oil, the balsamic vinegar & the sugar as well as the garlic, the thyme & the dried chili to the tomato mess & mix. Add salt to taste.

Let the tomato mess bake in the oven for about 30-40 min.

Let it cool down for about 10-15 min; add the tomato purée & blend it in your electric blender until you get a smooth sauce.

Add salt & pepper as well as sugar – to taste.

Store in your fridge until ready for use.
Notes
Servings: You'll get about 600 ml tomato sauce. This means about 4 servings – each for pasta for 2 people.
Prep Time: includes preparing the tomatoes as well as preparing the final sauce.
Tomatoes: Use ripe tomatoes – the size doesn't matter. If large cut the tomatoes in 4 resp. 8 pieces.
Pits & mush: It's up to you if you like it in the final sauce or not.
Thyme: I cut some fresh thyme from a pot on my window sill. The stems are very tender. So I used stems & leaves. If you happen to get some stronger thyme you should only use the leaves.
Herbs: I used thyme – you may also use oregano, basil … any fresh Mediterranean herb.
Garlic & chili: I don't like too much garlic resp. too much chili – add as much as you prefer.
Sugar: You may substitute white sugar, honey, any sugar syrup or whatever for brown sugar.