Dieser Beitrag enthält Werbung – advertising.
Among all historic sites Rome's most iconic landmark is the Trevi Fountain – at least for me!
Do you remember Anita Ekberg wading across the fountain's pool at night in her long black strapless evening dress? Remember a very handsome Marcello Mastroianni watching her?
I remember vividly this scene out of La Dolce Vita, Federico Fellini's masterpiece. It's a summer in Rome, paparazzi dashing through the alleyways on their Vespas, rich & noble people endulging in vice & desire & deadly dullness, a living w/o limits … disaster slowly raising on horizon.
In short: I'm obsessed with the Trevi Fountain in Rome – as well as I'm obsessed with Michelangelo's David in Florence.
Movies … movies set in Rome – of course you haven't missed Tom Ripley & the Spanish Steps in The Talented Mr. Ripley. From my travel companion I learned that especially Tridente – where there are the Spanish Steps – was the home of English speaking expats since the late 1700s.
Here are the Spanish Steps … filled with people all day long … all sitting on the steps although frowned upon by authority (especially after the restoration)!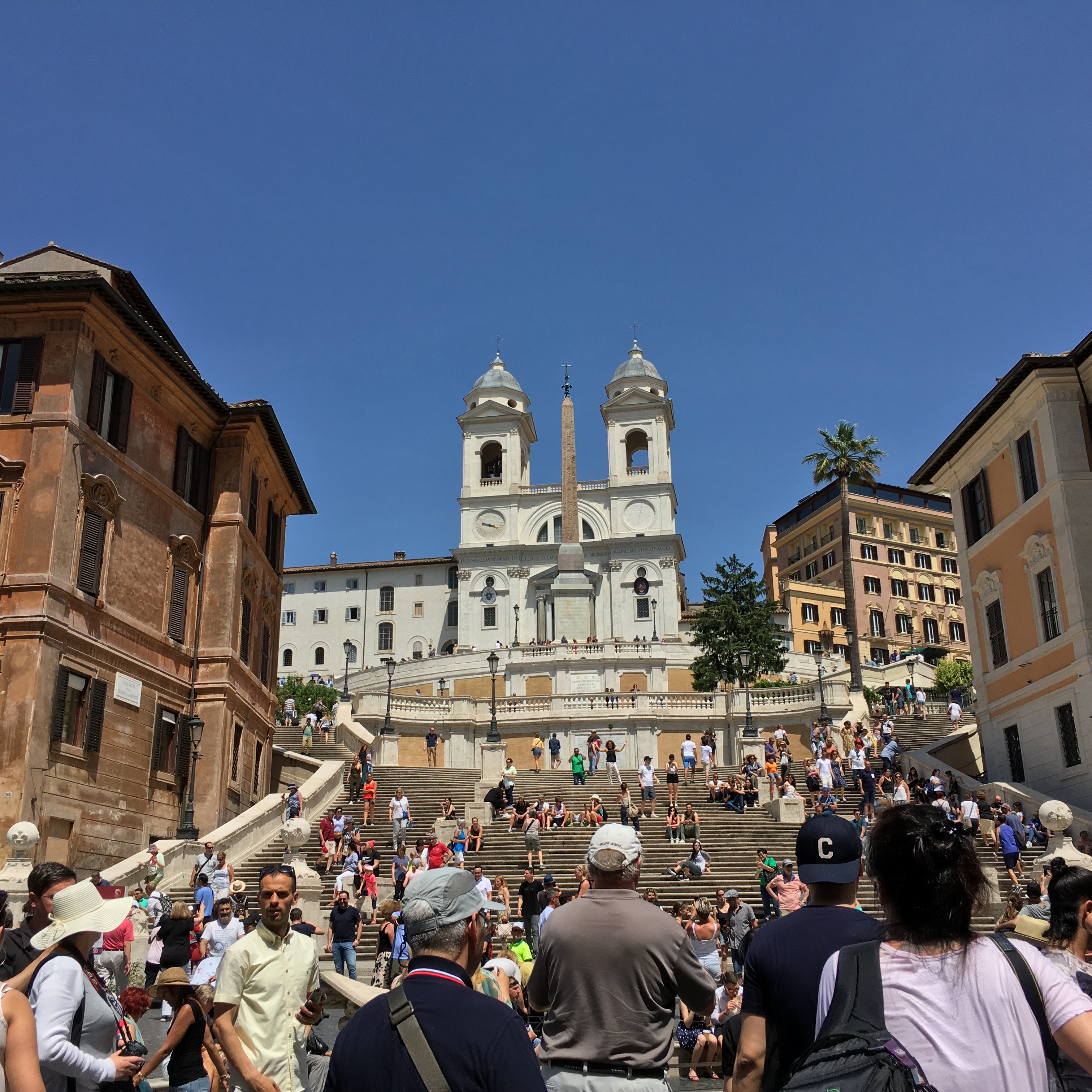 We didn't hike up the 135 steps, but used the lift in the Spagna metro station.
Let's start from the beginning: my better half & I decided to do a trip to Rome. We also decided – based on our Athens adventure last year – that it might be better to spend some more time than a long weekend. So we booked an apartment in Tridente (near the Spanish Steps) for almost 2 weeks.
The house was from 1878 & had been transformed into many apartments. It was really nice. We lived in the middle of Rome, in one of the small alleyways with lots of shops & bars & trattorias & restaurants & gelato parlors – not so far from the famous & expensive shopping gorge Via Dei Condotti (we were not tempted!).
We also lived in the middle of chatting people crossing our alleyway, background music of the bars, clattering & clanging of glass & china & cutlery, honking of dashing Vespas, slowly creeping cars…
Each morning after breakfast – a solid continental affair, no Italian breakfast (a caffè & some small cornetto) – we started exploring Rome. We walked. We always walked. There is a metro, but we didn't use it: it was fine weather, the sky was so blue, the sun glittering, it became hot …, but it was so interesting just to stroll through the alleyways & get lost … to relax & escape the heat in a café …
Therefore our cruising radius was limited, but Rome – old, historic, ancient Rome – is unlimited even if you only cover a circle of less than 5 km or so.
There are lots of piazzas framed w/ cafés (& trattorias & restaurants & gelato parlors …) where you can enjoy a real caffè & all the life going on around you. You can also enjoy a Spritz anytime … I think you got it: our stay in Rome was mainly an outdoor-&-watching experience.
So let's share now some views of famous piazzas … The Romans (the classic ones) liked to snatch away obelisks from ancient Egypt & replace them around Rome. Just look closely at the photos.
Rome is not only covered w/ buildings – everywhere there are also green parks & nice sculptures from the past.
We only visited the Vatican Museums & the Sistine Chapel (no photos allowed). My better half & I recommend to buy an online ticket for entrance w/o queueing. It took us only 15 min to enter the museum – the queue time mainly due to security. All other museums – I'm sure all are worth a visit – ended up on our virtual to-do list for our next Rome trip.
One day we made it to the keyhole view on Aventine Hill – a famous Catholic joke (I think!). It's in the door of the Roman home of the Knights of the Order of St. John in Malta (you remember our stay in Malta?). There is a keyhole where you can see St. Peter's Basilica far away on the other bank of the Tiber river.
Of course I tried to do a shot, but it didn't work out. Our travel companion had a photo: I swear that you see exactly what's on the photo when looking through the keyhole – it's really amazing.
Ancient Rome is everywhere, but especially the Colosseum & the Roman Forum as well as Capitoline Hill are worth a visit – we spent 2 days in this area.
The ticket is for both (Colosseum & Roman Forum) & valid for 2 days, however only 1 visit per site. If you buy your tickets at the side entrance to the Roman Forum there isn't any queue – or at least only a minor queue (taking some minutes). If you try to buy at Colosseum it's an endless queue. So: if you already have your ticket you may enter the Colosseum at once only having to stop for security.
The Colosseum is enormous once being able to sit up to 50.000 people – & to empty the stadium in 30 min or so. I learnt that until now all stadiums are built on the blueprint of the Colosseum.
… & the Roman Forum: ruins & archaeological excavations all over the place & beyond: there seems to be a lot hidden under stones & debris still today!
From the Roman Forum to Capitoline Hill: the heart of ancient Rome's administration!
… & a last view of the Trajan's Column!
After our field trips we went happily home – looking forward to having a Spritz in front of the bar opposite our home. We relaxed w/ some bits & bites of prosciutto cotto & prosciutto crudo, salami al finocchio, pecorino, fresh & dried tomatoes, green olives …
Eating in Rome: a dinner consists – by the book – of antipasto, primo piatto (pasta or rice), secondo piatto (meat or fish or seafood), insalata/contorno (vegetables), dolce (i. e. cake), fruit, caffè, digestivo, but do as the Romans do & skip courses – our travel companion assured us that nobody is expected to eat the whole menu. Therefore I reduced my dinner to antipasto & pasta or pasta & dolce – of course: the caffè is obligatory!
Let's close w/ a Spritz!