Dieser Beitrag enthält Werbung – advertising.
I'm still in my loaf cake mania… & I made progress in my test series…
What's new?
I made a ricotta loaf w/ orange flavour.
…& I topped it off w/ chocolate icing!
For the record:
At first I tried to do a ganache, but it didn't work out as I anticipated. You may know by now when having followed my blog that "me & icing" are not best friends. I think that icing is complex, takes time because it always goes together with decoration which takes even more time. (To be honest: I'm a minimalist concerning food decoration.)
Years ago I made a ganache by chance: I simply added some tablespoons of cream to the melted chocolate – fine: a soft & shiny chocolate icing. I tried to repeat my success – well: sometimes it was fine & sometimes…
Then I started from the scratch: heating cream, melting chocolate – all seemed fine in the pot in my hand-made bain-marie… Then suddenly the whole mess broke down. I think it was too hot…
So I decided to be happy with pure chocolate.
What do we need?
It's only:
butter
sugar
eggs
flour & baking powder
ricotta
orange marmalade
vanilla extract.
Compared to my last try (vanilla loaf) you'll notice that I replaced mascarpone by ricotta – I reduced the fat in my loaf. Another reason is that I read a lot about ricotta cakes during the last weeks… on several food blogs.
For the orange flavour I used fine-cut bitter orange marmalade. (At first I looked for organic oranges, but the offer (at this time of the year!) was rather poor in my trusted food store so I opted for marmalade.)
We start w/ combining sugar & butter, adding the eggs – all is mixed thoroughly w/ an electric handheld mixer (after having started our oven to preheat it to 150°C w/ fan).
Then we add the flour & the ricotta & the marmalade w/ the vanilla extract.
That's it.
We pour the batter in the prepared baking tin & the oven session may start.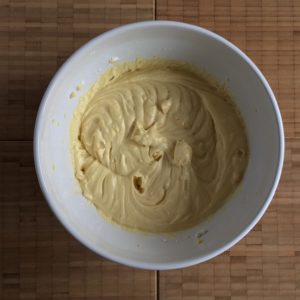 Isn't it nice? Fluffy… moist (btw: it took 60 min to get this result!).
Now it's chill out time for the loaf cake.
As soon as the loaf is at room temperature we melt the chocolate in a bain-marie & scoop the chocolate all over the cake…
(Put it in the fridge for some minutes or more… to let the chocolate set.)
Enjoy!
Ingredients
200 g sugar
125 g butter
2 eggs
200 g all-purpose flour
1 tsp baking powder
150 g ricotta
3-4 tbsp orange marmalade
1 tsp vanilla extract
a pinch of salt

icing:

75 g dark chocolate

equipment:

a loaf tin (25 cm)
an electric handheld mixer
How to...
Preheat the oven to 150° C w/ fan.
Line the loaf tin w/ baking paper - crosswise.
Combine sugar (incl. a pinch of salt) & butter w/ the electric handheld mixer until fluffy.
Add eggs & mix until smooth.
Add the flour mixed w/ the baking powder & mix until well combined.
Finally add ricotta, orange marmalade & vanilla essence & mix...
Pour the batter in the prepared loaf tin & let it bake in the oven for about 55-60 min.
Make the famous test w/ the wooden pin...
Let the cake cool down for about 10 min - then lift it out of thee tin.
Remove the baking paper & let it cool completely on a cooling rack.
Melt the chocolate in a bain-marie & spoon all over the cake; let the icing get firm in the fridge for about 1 h.
Notes
Orange marmalade: I used fine-cut bitter orange marmalade.
Choclate icing: you may take more than 75 g... if you like!
Baking paper: baking paper is the best solution to minimize the cleaning efforts after the baling session. Of course you may also use butter or oil together w/ some fine breadcrumbs...
The cake will be fine for 4-5 days in an airtight container sitting on your kitchen counter.
You may also store the cake in the fridge; then it will get a little firmer.
https://thebusinesswomanskitchen.de/an-orange-ricotta-loaf/
© Copyright 2015-2019 Christine Steinbach (The Businesswoman's Kitchen). All rights reserved.
During my loaf cake adventures I compared a loaf tin w/ a springform.
For the record:
I have 2 baking tins for loaf cakes – each is 25 cm (see my equipment). I have also a springform of 26 cm (and a smaller one of 18 cm). You see: my equipment is rather low level.
Btw – of course you can fill the batter in a springform instead of a loaf tin. The batter doesn't mind! The cake might get more flat, the baking time might change…
In the recipes you'll often find a specific tin or springform size… Well: I don't think that anybody has at home a large variety of baking tins – if by form, if by size. So often you'll have the problem of rightsizing the amounts of the ingredients.
I made a calculation for my home base:
a loaf tin of 25 cm is about half of a springform of 26 cm.
This means that I simply have to double the amount of my ingredients when using my springform instead of a loaf tin. I made a test – and it works fine for plain coffee cakes. The baking time will have to be extended by about 15 min – you better make the famous test w/ the wooden pin to be onto safe side!
Of course it's getting more complicated when you stumble across a recipe for a springform of 18 cm & you'll have to adjust to your springform of, let's assume, 28 cm. Best is to remember math lessons at school, especially concerned w/ fundamental geometry… then calculate the volumes, round up or down  & find the appropriate ratio.
Well: you always can use water… Fill each baking tin w/ water & just pour the water in a measuring jug – it's definitely the best for any Bundt cake pan or one of these modern baking tins w/ finely elaborated surfaces.
For the record:
When adjusting the amounts of the ingredients stay real: you cannot work w/ 1,3 eggs or 0,6 tsp of anything. You'll have to make concessions due to the nature of the ingredients. My experience is: it will work. So take the baking tin which seems "right" for the amount of batter – if rectangular, round or Bundt type.
In short: don't think too much about how many bakings tins you might need & definitely don't buy lots of them… Think about how big a cake – if loaf, if springform, if Bundt – you need for your baking adventures in general & buy exactly this. Trust me: you can always adjust the amounts of ingredients! (Or find another recipe for the same cake in one of your baking books resp. on a food blog!)
The businesswoman w/ too many office hours thinks 
Another delicious temptation… Full stop. No more comments.