Dieser Beitrag enthält Werbung – advertising.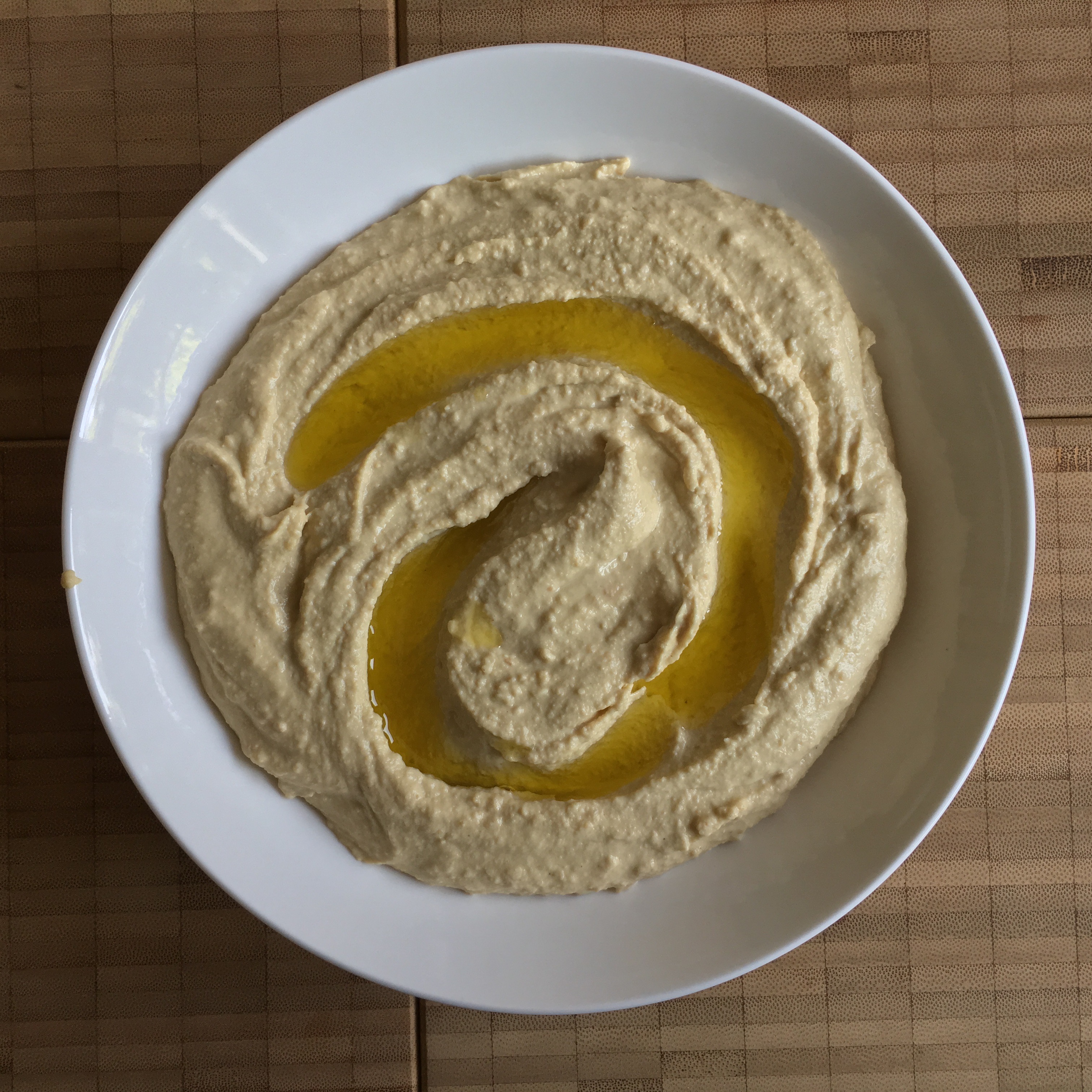 It was on a birthday party night when I tried hummus for the very 1st time… everybody seemed enthralled by hummus, the new star of dip paradise. Well, hmmm… I wasn't fond of hummus at all. It was tasteless & mealy. Okay: it was many years ago… the hummus era had just started.
I always give any innovations in food universe a 2nd go – or even a 3rd go, or a … So during the next years I tried hummus here & there… (however not so often because it stayed somewhat tasteless & I missed this famous creaminess!). My friendship w/ hummus just didn't flourish.
Recently I noticed that hummus was in the spotlight again. There were quite a lot of food blogs featuring recipes for home-made hummus – sometimes on the background of a recent trip to the Middle East, the home of hummus.
…& always there was this idolization of hummus as the most delicious dip to accompany breakfast, brunch & dinner. I was curious & started a research: was it possible that I always had hit on "bad" hummus? ("Bad" hummus like a combination of less qualified ingredients or a wrong proportion of the main elements.)
I learnt that it is essential to add enough tahini, i. e. sesame paste. If using 90% chickpeas & only 10% tahini it'll become a mild disaster i. e. a low quality hummus w/o the delicate sesame flavoring & smoothness. (Well… tahini is expensive, but there's no substitute!)
It is also recommended to remove the husks of the chickpeas before blending.
…& from my personal experience w/ home-made hummus I'd like to add: garlic, cumin, salt & lemon juice are indispensable. (I didn't work w/ additional spices or flavors (like chili, paprika…): my goal was to create a prefect plain hummus!)
…& stay away from Greek yoghurt, sour cream, crème fraîche etc.: these softeners for smoothness have no business for being inside hummus.
…& the same is true for olive oil (or any other oil!). Olive oil, lots of it, have to be on top of the hummus mess – ON TOP – when being served to mingle w/ the hummus when dipping bread into the mess.
So what do we need?
It's only:
chickpeas
tahini (sesam paste)
fresh garlic
ground cumin
salt
lemon juice & cold water.
(Olive oil… this will come into action later!)
Concerning the amounts:
I had about 2/3 chickpeas & 1/3 tahini for the basis.
(Maybe you can go 50:50, but the hummus will get a lot richer!)
I worked w/ only 1 clove of garlic – so there was a nice garlic flavour w/o being overwhelming.
Salt (1 tsp!) as well as lemon juice (3 tbsp!) are important to add some tangy flavour while the cumin (1 tsp!) is rather soft in the background carrying the oriental touch.
For the record:
I used a can of organic chickpeas – ready for serving. I didn't buy dry chickpeas, soaked them in water overnight, cooked them for 60 min or 90 min or 120 min… You may start this way, but it'll be a long way.
The same is valid for tahini. Of course you may buy sesame seeds, roast them (or not!), crash them & mash them in a mortar until you'll get this fine oily paste. I bought a small glass jar of tahini w/ nothing else inside but mashed sesame seeds (i. e. no preservatives, no additional oil, no salt, no whatever).
Unfortunately canned chickpeas have their husks… So rinse the chickpeas unter running water (some husks will vanish into the sink) & rub them softly w/ your fingers or a paper towel until – almost – all husks are gone.
Chop the fresh garlic.
Don't do w/o ground cumin & fine salt!
Now grip the pot of your electric handheld immersion blender & put in all the ingredients.
…& blend …blend …until there is only a fine creamy mess left!
Now it's ready for serving. Tear apart some bread & dip it into the hummus mess…
Enjoy!
Print Recipe
the long story of hummus & me
ingredients
1

can

chickpeas

- about 265 g

1

jar

tahini

- about 125 g

1

clove of garlic

1

tsp

cumin

1

tsp

salt

3

tbsp

lemon juice

100

ml

cold water

olive oil
how to...
Rinse the chickpeas under running water.

Remove the husks by rubbing softly w/ your fingers or paper towels.

Put everything - except the olive oil - in the pot of your immersion blender.

Blend until all is combined into a fine soft mess.

Serve w/ some olive oil on top.
Notes
Chickpeas: Most of the preparation time you'll need is for removing the husks of the chickpeas.
I remove the husks because I read about doing so in lots of recipes. Of course - I also found this in recipes - it's possible to omit this step of preparation. If doing so make sure that the husks will be mashed totally when blending.
Garlic: You may use 2 or 3 cloves of garlic if you like, however, keep in mind that the garlic will become rather intensive when there are leftovers.
You may store the hummus in an airtight container in your fridge for at least 3-4 days. It doesn't matter if some olive oil - leftover from serving for the 1st time - is amid the hummus mess.
There's a little add-on:
When serving hummus it is inevitable to add some olive oil. So grab a rather small teaspoon & mark some spiral channel in the hummus mess. Just fill it w/ the very best olive oil you may find on your kitchen counter. When dipping the bread into the hummus it'll mingle w/ the olive oil… for some even greater deliciousness!
The businesswoman w/ too many office hours thinks 
I just read on a blog that hummus is now old-fashioned – it's a dip from the noughties or so… I don't care: it's heavenly creamy (once I found the right ingredients & the right amounts of them!) & very tasty.
I like to make a bowl of hummus just for the 2 of us – leftovers are fine in the fridge for several days. We like this plain home-made hummus for… everything!
(However, I'm not sure that I'll enjoy any hummus whenever served wherever…)