Dieser Beitrag enthält Werbung – advertising.
When living in Athens for about 5 weeks in 2017, during our last weekend we made a trip to Hydra, one of the Saronic Islands. It was only for the weekend, but it was an experience in relaxing & unwinding, chilling & … frankly: sweet idleness!
Hydra is a harbor is a harbor w/ a fortification, a small natural harbor … w/ a sprawling promenade … lots of cafés, restaurants, bars … lots of small shops …
Just take a seat & watch as life goes by!
It was October & the weather was fine: blue sky & a glistening sun. Most of the tourists had already left for other destinations (like home or wherever). There are no cars allowed on Hydra – you have to walk, but distances are short. You may try a ride on a donkey or take a water-taxi for any remote parts of Hydra – if you really need to go there … Life concentrates on Hydra Port.
… & there are lots of narrow alleyways to stroll in search of more cafés, bars, shops …
Some of the shops are hidden offering more exquisite goods – a lot more than the usual touristy rubbish.
There are churches w/ doors leading straight to the harbor front …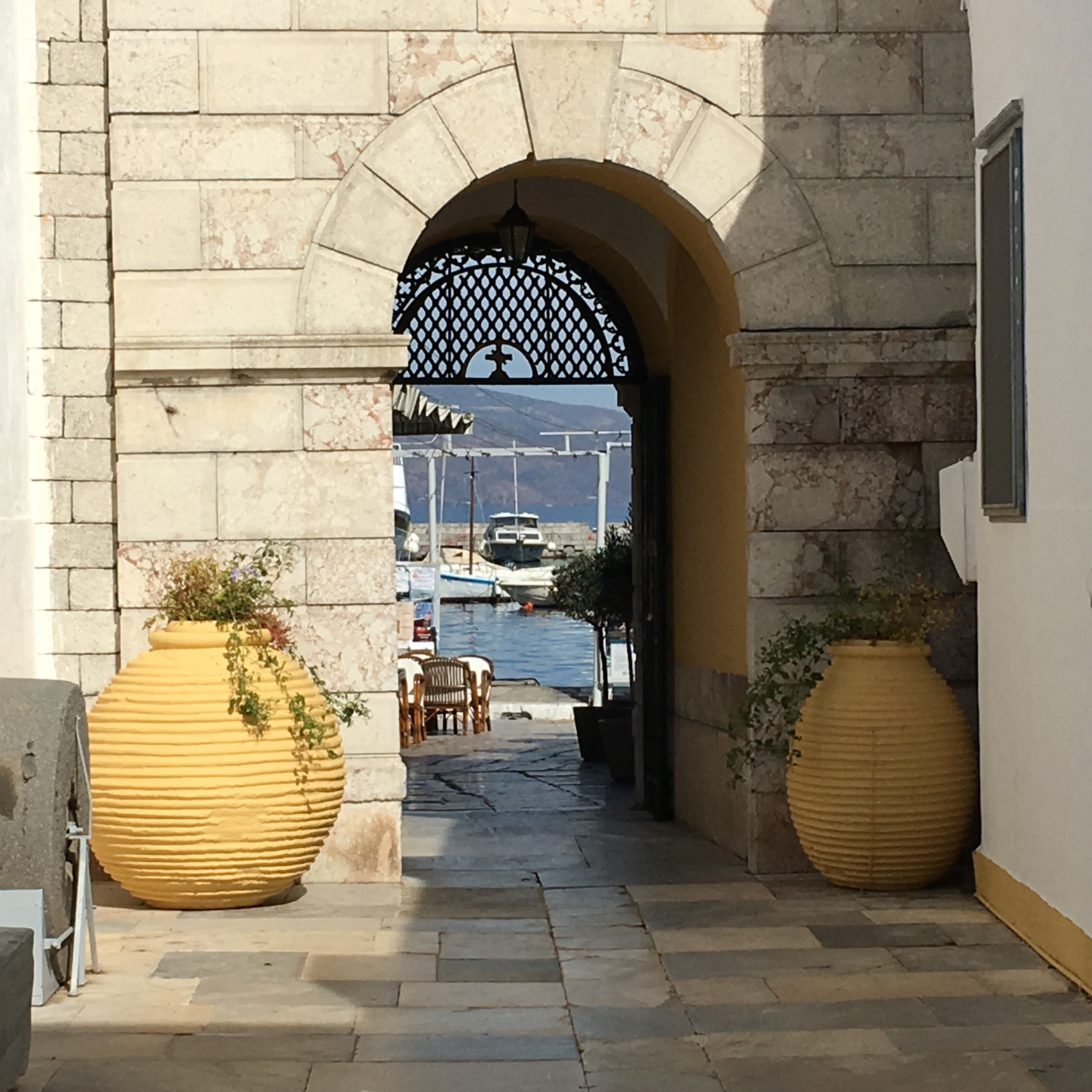 There is a monastery (i. e. a nunnery) up on the mountain … (We made it only up to here – there's another monastery (for men) somewhat higher in the mountains.)
From here you have a brilliant overview of the harbor i. e. the island (see the cover of this post!)
When leaving the harbor you may walk along the coast & admire the Aegean Sea. It's calm & quiet – a great silence around you (see the last photo of this post).
We spent our time w/ some walking, having a late morning coffee, some shopping, having an early afternoon beer – in between watching the harbor life & enjoying the relaxing silence around us.
You need not planning any big excursions or tours because all objects of interest are within walking distance – just forget about your usual sightseeing marathon & enjoy the simple life of just letting go.
… now coming to the cats – Hydra's cats:
Cats are everywhere on Hydra. (I learnt that there are special care programs for the cats – a trademark of Hydra.)
We would really like to return to Hydra for a long weekend … It's a perfect island to chill out & recharge!