Dieser Beitrag enthält Werbung – advertising.
This is a very short post.
First of all it's mid of May & we've got some sort of a heat wave – it's about 30° C! Therefore cooking or balking something for long hours isn't so attractive.
Secondly a heat wave cries for easy refreshing dishes – like salads.
My better half & I are very fond of leaf salads. We like it not only during summer or heat waves, but throughout the whole year.
When preparing the leaf salad we make it simple. So I decided to give a short overview.
To start with we need lettuce leaves.
You may buy a head of lettuce, trim the leaves, clean them, dry them by help of a salad spinner … You may also start w/ a mix of lettuce leaves, maybe even cleaned.
We are talking about:
green or red lettuce
iceberg lettuce
lamb's lettuce
romaine lettuce
spinach leaves
lollo rosso or bianco
….
There's quite a lot!
Next step is adding some additional vegetables … preferentially chopped. Let's talk about:
spring onions or red onions or …
radishes
cucumber
tomatoes
mushrooms
…
Always remember that the main ingredient of a leaf salad are the lettuce leaves. So the rest is only an add-on – meaning small amounts!
Further add-ons are:
cheese like Parmesan, Pecorino, Mozzarella, Burrata, Feta …
ham
hard-boiled eggs
…
These days we like a mix of delicate lamb's lettuce, spring onion & creamy feta cheese. Another option is spinach w/ peas & creamy feta cheese, or a mix of leaves (ready-for-use) w/ some spring onion & red pepper.
From the point of preparation:
Get your lettuce leaves ready.
Chop all ingredients – don't overdo!
Mix lettuce leaves & ingredients.
Mix the dressing.
Add the dressing to the salad mess.
Serve & indulge in the mess.
The dressing is the crucial part of the operation because it will care for the satisfying combination of lettuce leaves & ingredients.
To start with:
oil
vinegar
mustard
salt & pepper.
I prefer olive oil, balsamic vinegar & sweet French mustard. This is my standard approach. (Sometimes I like a white balsamic vinegar, condimento bianco. Sometimes I like original Dijon mustard, however, I add some honey …)
Well: of course you may work with whichever oil or vinegar or mustard you like!
I always put the ingredients for the dressing in a shaker, close the lid & shake. (It's faster than working w/ a bowl & a wire whisk – and less washing up.)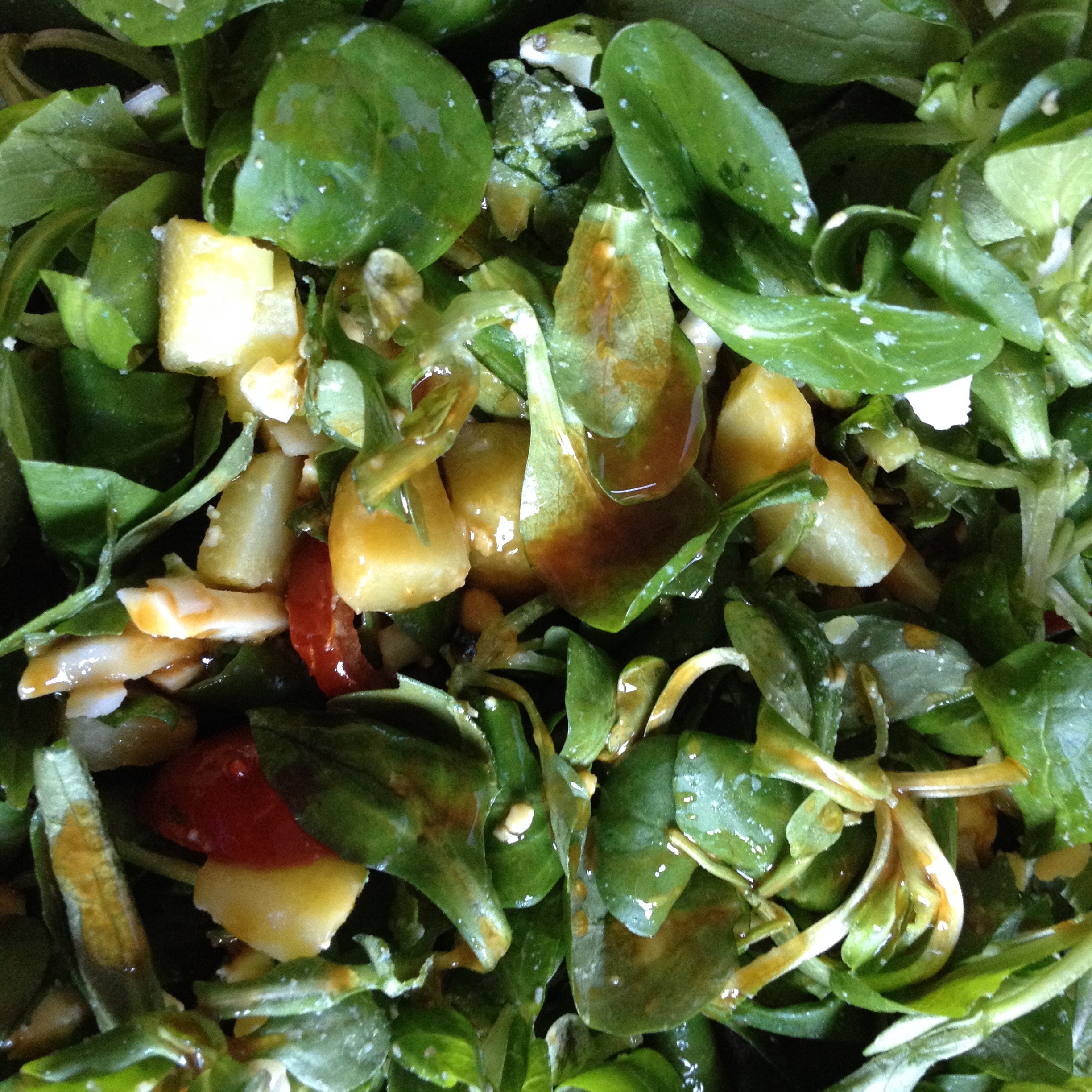 Enjoy!
Print Recipe
lettuce leaves & leaf salad
ingredients:
for the leaf salad:
100

g

lettuce leaves

(up to 150 g)

2-4

additional ingredients

(chopped)
for the dressing:
4

tbsp

olive oil

2

tbsp

balsamic vinegar

1

tsp

sweet mustard

salt & pepper

(to taste)
how to:
Put all ingredients in the shaker & shake!

Add to the rest of the leaf salad & mix!
Notes
Prep time: It's about 5 min for mixing the dressing! (In addition there is the preparation of the lettuce leaves (trimming, cleaning …) & the preparation of any further ingredients (like spring onions, tomatoes, cucumber, radishes, green beans, peas, carrots … cheese, ham, eggs …) – maybe 10-20 min.
Oil: In general you may use any oil that you like & that seems to match w/ the salad & your preferences.
Vinegar: In general you may use any vinegar … (However, have in mind the acidity – adjust the amount if necessary!)
Mustard: In general you may use … (However, have in mind the intensity of the mustard – adjust the amount!)
Sweet mustard: If you use sweet mustard you won't need any sugar or honey or whatever.  If using another mustard don't forget to add some sugar or honey or …