Dieser Beitrag enthält Werbung – advertising.
I had a fine butternut sitting on my kitchen desk for some days & decided to try an approach for a soup w/ lots of vegetables. I had some carrots, some frozen peas & some spring onions. What else? There was some bacon in my fridge & I thought it might be a fine add-on concerning the flavour.
… & of course I had some of this dark green, intensive pumpkin seed oil for the finish.
At the moment I'm busy w/ quick & easy recipes – especially lunch recipes – because my better half is at home – you call it home office. My better half works in the communications department, is fully equipped w/ digital gadgets & used to working online. On-and-off-again there was a home office day in the past, however, now all employees who can work from home are asked to do just this.
Well, that's not new – or? We are fighting Corona … better: stopping the spread of Corona.
Home office: My better half starts working as usual about 8 am w/ writing minutes & posts, working on E-mail requests, looking into subjects, telephoning, managing the ongoing projects, discussing progress in web meetings … until about 5 pm. (The lunch break is only w/ me of course – as well as any coffee breaks …)
I'm somewhat surprised when reading, especially in social media, that "home office" is strongly associated w/ "holidays". People seem to think about what to do at home like "What I always wanted to do, but never found the time for …" or simply how to kill time all day long.
For me (& my better half) "home office" is like working in the office. The workload doesn't vanish miraculously when sitting at your desk at home instead at your workplace. We should be happy w/ the option of "home office" & appreciate that people at home work also hard to keep everything running.
So, enough … coming back to our recipe!
This is my nice butternut of about 1 kg. (I'm sure I published lots of photos about butternuts or hokkaidos during the last years, who always seem to look the same, however, that's the life of a pumpkin.)
1st step: preheating the oven to 175° C w/ fan.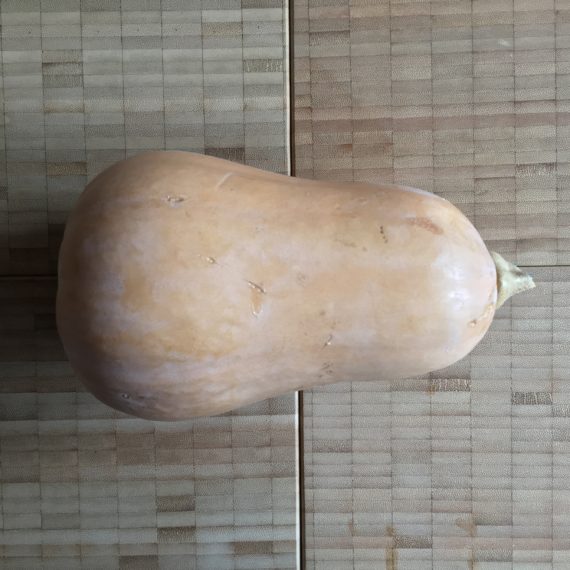 We cut off the top & cut in half the rest. Scraping out the pits & the fibre mess is quite easy. Afterwards we brush some olive oil over the surface. Then the butternut sitting on a baking tray lined w/ baking parchment marches into the preheated oven for about 45 min.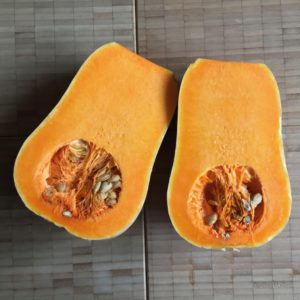 In the meantime we prepare the vegetables:
we peel & cut some carrots
we chop some spring onions
we fetch some frozen peas from the freezer …
… & we chop some bacon.
All is fried for about 15 min in olive oil – softly. Add some water if it's too sticky … (I'm pretty sure you'll do this!).
… & we finally get:
When the butternut is ready we carefully scrape out the soft butternut mess. We mash it & then we heat it up in a pot & add some cream & some milk. (The butternut mess is rather stiff … we need some liquid.) Work w/ your handheld immersion blender to create a soft texture of the butternut mess.
For the flavour explosion we add ras el hanout, a spice mix from North Africa. It's mainly a mix of cinnamon, cardamom, chili, ginger, cumin, allspice, cloves … depending on the region & the manufacturer. It's hot & spicy, but not too hot. I had 1/2 tsp of the mix – if you like you may add some more!
Ras el hanout works outstandingly good with the butternut mess …
… & we add salt & pepper to taste – and maybe some sugar or molasses.
Ready.
We created a simple butternut stock, creamy & lazy. If you like you may serve just this type of stock as a soup for food purists.
However, we can also carry on w/ soup making.
We start w/ an empty plate & fill in some of our hot vegetable mess. We add very hot butternut stock …
… & for the finish: some of this dark green, very intensive pumpkin seed oil!
Enjoy!
Print Recipe
lazy butternut stock
ingredients:
for the butternut stock:
1

butternut (about 1 kg)

some

olive oil

100

ml

cream

100

ml

milk

½

tsp

ras el hanout

1

tbsp

sugar or molasses

(optional)

pepper & salt

(to taste)
for the soup's hardware:
75

g

South Tyrolean bacon

4

spring onions

2

carrots

100

g

frozen peas

1

tbsp

olive oil

some

water
equipment:
electric handheld immersion blender
how to:
Preheat the oven to 175° C w/ fan.

Line a baking tray w/ baking parchment.

Trim the butternut, cut it in halves, scrape out the pumpkin seeds & oil the surface slighly.

Put the halves on the baking tray & bake for about 45 min. The butternut should be very soft then.

Scrape out the butternut pulp, mash it & add the cream, the milk & the spices.

Bring it to a boil (be careful: it splashes!) & blend w/ your electric handheld immersion blender until soft.

Set aside, but keep it hot.

When the butternut is in the oven: chop roughly the bacon, the carrots & the spring onions.

Put everything in a pan w/ some olive oil & add the frozen peas.

Let it fry resp. simmer for about 15 min. Add some water if too dry.

Distribute the vegetables on a plate. Pour some butternut mash around & add some dark pumpkin seed oil.
Notes
You may store everything in your fridge. Just reheat in the microwave before serving.
Was this before or after the soup?