Dieser Beitrag enthält Werbung – advertising.
Another Friday – another pizza.
(Okay – I post this on Monday!)
Today we'll get a home-made pizza – almost at once. However, it's a rich pizza, enough for lunch & dinner for my better half & me.
I started w/ a ready-to-bake pizza mix: you'll only have to add warm water, then mix & knead. The basis consists of flour, dry yeast & baking powder … some oil. It's almost as if home-made. However, it's a faster approach.
Of course you may also start from the scratch – needing about 30 min in addition for rising …
The pizza pastry is created at the beginning & rolled out on a baking tray lined w/ baking parchment. Then the toppings follow …
Walt do we need?
Italian tomato pulp (out of a can)
ham
mushrooms
gruyère
mozzarella.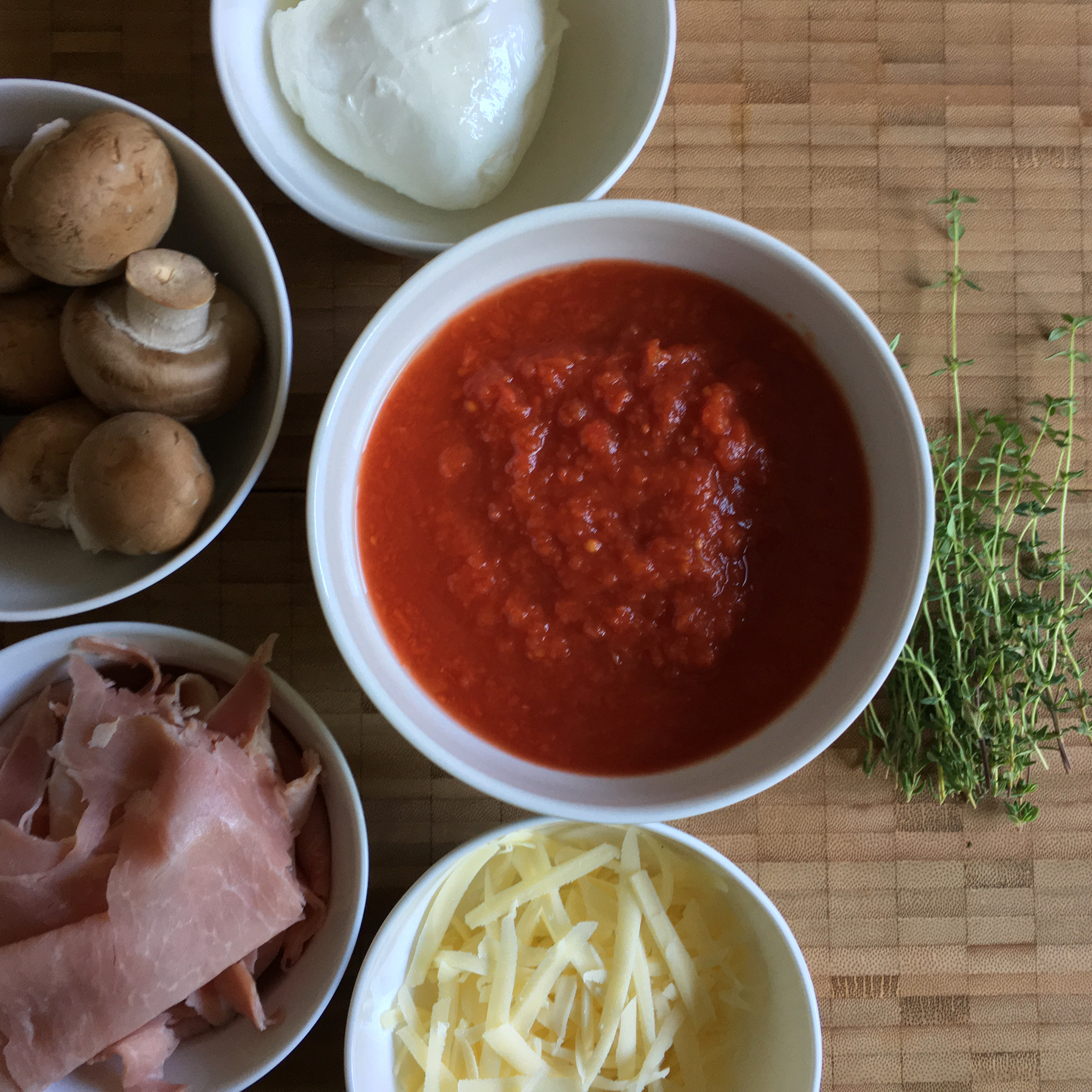 Some preparations are necessary:
The tomato pulp is drained i. e. reduced to the essentials. Olive oil & dried herbs (from the Mediterranean) are added.
The mozzarella is chopped.
The thinly sliced ham is chopped.
The mushrooms are cut into thin slices.
The gruyere is grated.
Fresh thyme leaves are plucked.
Originally I planned to add some fresh sage leaves, but the sage on my window sill wasn't appropriate any longer for any cooking adventure. So I decided to add some fresh thyme & some dried sage.
The pizza pastry is rolled out & is covered w/ the tomato mess. Dried sage is sprinkled on top. The hearty gruyere is added as well as the ham & the mushrooms. The thymes leaves are sprinkled on top. Finally the mozzarella bits are added.
The pizza marches in the oven (no preheating required) & bakes for about 30 min at 175° C.
We had half of the pizza for lunch. The ham, the mushrooms & the cheeses are filling … We had the rest for dinner. (I can eat pizza anytime!)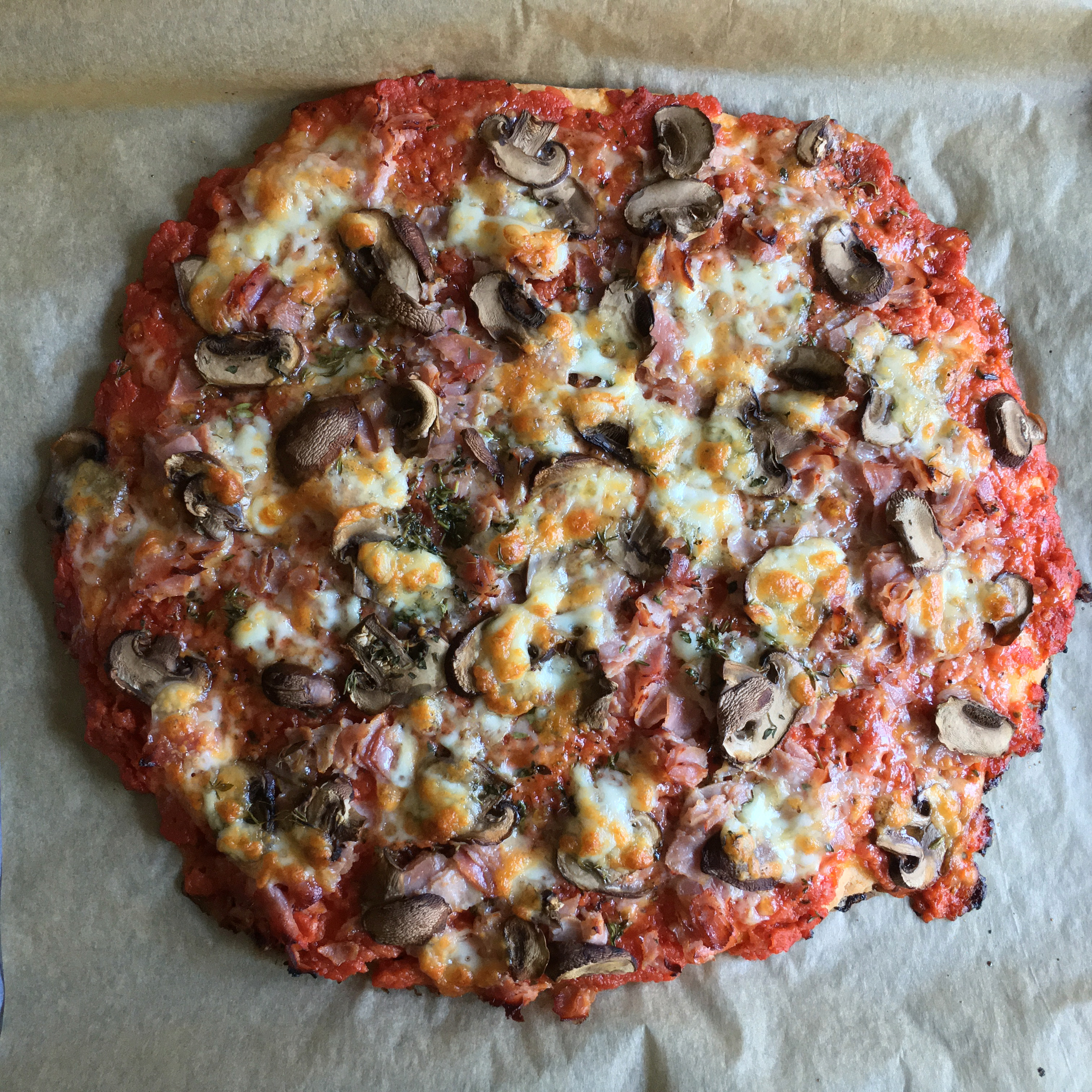 Enjoy!
Print Recipe
friday's pizza w/ ham & mushrooms
ingredients:
1

pizza pastry

400

g

tomato pulp

(1 can)

1

tbsp

olive oil

1

tsp

dried Italian/Mediterranean herbs

½

tsp

dried sage

40

g

gruyère

(grated)

120

g

ham

(thinly sliced & chopped)

100

g

mushrooms

1

ball

mozzarella

(125 g)

1

tbsp

fresh thyme
how to:
Prepare the pizza dough so that it's finally sitting on a baking tray lined w/ baking parchment.

Drain the tomato pulp & discard the water. Add olive oil & dried herbs.

Chop the ham & the mushrooms.

Dsitribute the tomato mess on the pizza pastry.

Add the ham & the mushrooms.

Add the fresh thyme leaves.

Add the chopped mozzarella.

Bake in the oven for about 30 min at 175° C fan.
Notes
Dried herbs: you may us any type of mix like herbs of Provence. You may also mix your own out of dried oregano, marjoram, thyme … whatever.
Dried sage: you may also use fresh sage – about half a dozen leaves.