Dieser Beitrag enthält Werbung – advertising.

During May we cruised Tuscany for almost 3 weeks indulging in the green rolling hills & their vineyards & olive groves, in the cities from the 1400s & 1500s  – and of course in Florence! (…not to mention lots of Italian food & wine…)
For many years I wanted to visit Tuscany, but it never happened – until last winter when my better half & I spontaneously decided to go for it in next springtime. To be honest: except vor visiting Rome & Venice & Milan – as well as a short crossing of Northern Italy from Southern France to Southern Austria in 2 days – I was never before in Italy. As a lifelong fan of Italian cuisine – what a shame!
So expectation ran high when we planned our trip…
How to get prepared:
We looked for an appropriate travel guide from out trusted publisher & voilà:
We decided to set up headquarters near Florence & start from there into Tuscany & to Florence as well. When browsing the travel guide there was more than a hint to Michelangelo's David (about 500 years old, more than 5 m high, still in Florence & still unbroken). In former times when I was a student I had 2 posters on my wall: Venus de Milo & David; both on black background were about 80 cm x 180 cm. Finally I should be able to gaze at David live…
So here's my very special highlight: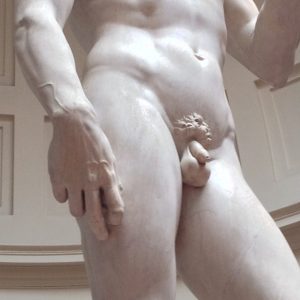 (Well… when we were in Malta  last year I was somewhat besotted with the Maltese Falcon – now it's Florence & David!)
Let's start with the green rolling hills… filled with vineyards & olive groves… (I never imagined that this picture of Tuscany I had in mind was reality!). We made a lot of trips into the rolling hills – ending up at narrow, winding, steep roads to be awarded with an overwhelming panorama.
When roaming Tuscany most likely we headed for places like San Gimignano, Siena, Montepulciano, Montalcino, Pienza, Volterra… all these medieval cities (or better: Renaissance cities) having survived the last centuries w/o major decay & damages. You can almost imagine how people lived here centuries ago fighting with the Medici or against the Medici (it doesn't really matter: the Medici won it all at the end!), producing wine & olive oil, trading & praying… Praying: be sure that each of these old cities has its cathedral – I mean "a real big cathedral!".
From my city list as well as the photos you may conclude that we confined ourselves to a certain central part of Tuscany: we didn't explore the coast or Tuscany's deep South. We managed very well to stay in the region well-known for Chianti Classico, Vino Nobile de Montepulciano, Brunello de Montalcino, Vernaccia di San Gimignano… It is a very rich region – rich in art & history, rich in fine wines, rich in wonderful landscape!
…and there's Florence: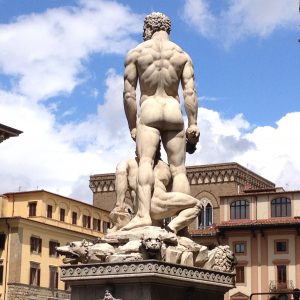 Florence is tourists' heaven!
I can't remember any other place in Tuscany filled to bursting with so many tourists as Florence. (Of course there is the fair tourist share in all the famous cities like Siena & co., however, in Florence…) Nevertheless we managed our way through Florence & it was exciting. We loved walking through narrow streets of the historic centre, gazing at little shops (& shopping!) as well as strolling the big boulevards (also in the historic centre!) with their enormous share of high end fashion shops: it's Florence the historic city, the picturesque & the glamorous!
"Il Duomo" is one of the big to-dos in Florence. We went
into
the cathedral, we went
under
the cathedral (looking at the archaeological excavations), we went into the Baptistry
in front of
the cathedral & we went into the cathedral museum
behind
the cathedral (we didn't do the cathedral from
above
!). Amazing: it took the Medici only about 150 years to complete the cathedral…
For the record:
I previously mentioned the "Medici" several times – the family is THE family of Florence responsible for Florence' rise in the 1400s & 1500s. The Medici spend enormous sums for art & architecture & thereby also paved the way for the beginning Renaissance age. (I think the "Medici" are for Florence like the "Sforza" for Milan, the notorious & infamous "Borgia" for Rome (although originating from Spain) …)
Let's now approach the "Uffizi" – built by the Medici – of course – adjoining the "Palazzo Vecchio" as an additional administration building – as the name says ("uffizi" → uffici (temporary Italian) → offices (temporary English)).
We started a tour at about 1 pm, but after about 3 hours we were exhausted: too many works of art, too much history, too much information – I think we managed to cover more than half of the "Uffizi": it's amazing & overwhelming! I was especially impressed by the portrait gallery although difficult to contemplate because the portraits are near the ceiling – it's a who-is-who of the Medici age!
Finally…
Did I mention that we set up our holiday headquarters on a vineyard – a "fattoria"? Yes – we did & we had lots of Chianti Classico right under our nose! There was a wine tour during our stay.
We had a look at the wine grapes, how to crush them, how to store the mess: the young wine will rest for some months in big metal containers (each takes about 5.000 litres) – then it will rest for a long time in the barriques (each taking 250 litres & only used 3 times for Chianti production). After the wine tour there was the wine tasting: we had Chianti Classico from 2013, 2010, 2007 & 2005 – getting better & better accompanied by fresh bread & olive oil, tomatoes, prosciutto crude, salami, cheeses…
The fattoria produces about 50.000 – 60.000 bottles each year.
Most of the time the food we had during the wine tasting wasn't so different from our usual dinner. We loved fresh bread with creamy butter, prosciutto & salami, cheeses, some grilled carciofi & grilled bell peppers, dried tomatoes in olive oil, some pickled sardines… accompanied by a nice Chianti Classico. It doesn't matter if you're in a small supermarket or in some sort of Tuscan deli – everywhere you'll find the delicious basics for such a simple dinner.
Pasta & pizza & some antipasti – our preference when eating out. We never managed an Italian full course dinner, just stayed with 2 courses. Especially the pasta (or primo piatto) with homemade pasta was always delicious. (We learnt from Italian practice that pasta doesn't need any special – extraordinary, expensive – ingredients or lots of ingredients: the simple way is always the best!)
Seriously, folks, how do Tuscan people master "antipasto, soup/salad, primo piatto (pasta/risotto), secondo piatto (meat/fish), dessert/cake, espresso, digestive accompanied by red/white wine" for dinner starting earliest at 08:00 pm? We made a go for it once – starting ordering step by step, but gave in after primo piatto… Nevertheless it was simply good!
I don't have any comments concerning la dolce vita… (I think the photos are sufficient.)
When on the road we preferred having a fresh-made pizza which we shared. Compared to German restaurants there was never such a long list of pizzas on the menu: the pizza offer was reduced to about half a dozen basics…
Last, but not least… at the end… once more…   my David!
All books are affiliate links to www.amazon.de (details Datenschutz).
MerkenMerken