Dieser Beitrag enthält Werbung – advertising.
In the north of Mallorca there is the Serra de Tramuntana – peaks up to more than 1400 m. In the south? There are only few points emerging from the plains. One is Sant Salvador, only 510 m high, but allowing breathtaking views all around Mallorca.
Near Sant Salvador a cross (14 m high) called Creu d'Es Picot was mounted at 478 m. You may spot the northern mountains as well as the large bay of Badia d'Alcúdia with its sandy beaches in the east.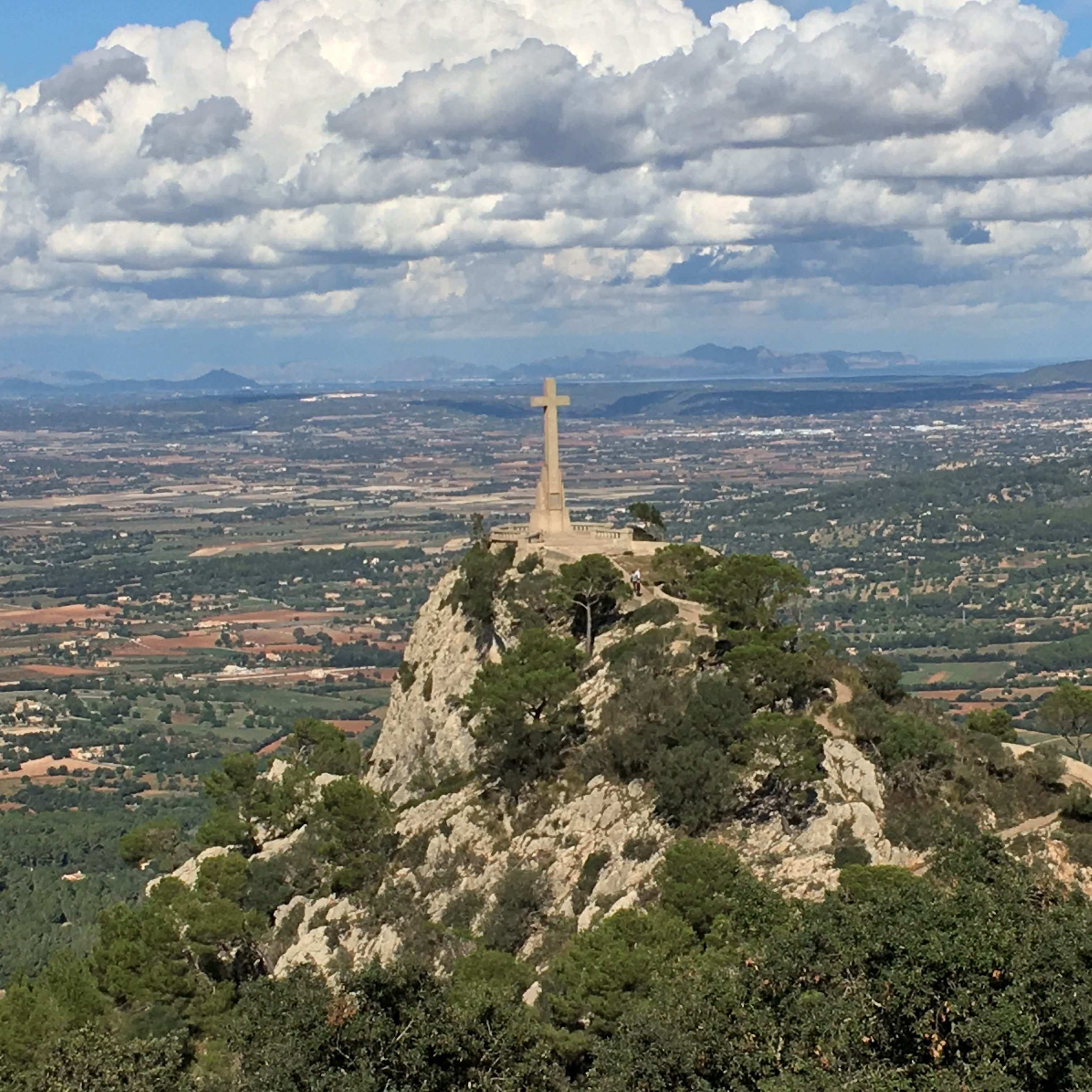 It was a nice clear day beginning of November when my better half and I made a trip to Sant Salvador. The number of tourists (like us!) were very low – so we hadn't to manage too many close encounters …
From the plains to the top it's a winding, long (and rather small!) road with lots of bends, heart stopping twists – some almost spanning 360°. It's demanding, but also interesting to climb higher and higher.
Then suddenly we arrived on top in front of the monument. It's really impressive. You may walk along the walls and take in the views.
Today the monastery has become a hostel. So you may be sure that there is also a café and a restaurant … when you are thirsty and hungry after your expeditions on top of the mountain.
Coming back to the cross: there is no access for cars, only a footpath.
The church is open … inside the complex.
The construction of the whole complex started in 1300s – very low-key – and expanded during the following centuries. Then the plague had invaded Mallorca and people thought it wise to pray in a special dedicated chapel, a new one …
The church is an artful piece of work.
From the hostel the monument seems far away …
We finally walked back to our car and started downward – once more mastering the winding road.
… and we also found another monument near the top: a very modern one!