Dieser Beitrag enthält Werbung – advertising.

Happy New Year!
Contemplating the classic columns you might think… No – it's not Athens – it's the church "La Madeleine" in Paris!
We made a spontaneous trip to Paris to greet the New Year 2018. New Year's Day morning on Place de la Concorde:
Before diving into some details of our trip…
…our reliable travel companions*:
On New Year's Eve there was blue sky – unfortunately clouding over during the next hours until it started raining. Nevertheless some impressions of the quarter around "La Madeleine".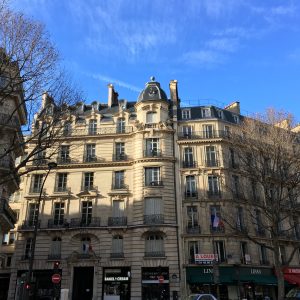 …when our energy ran out while roaming the boulevards there were lots of cafés, brasseries…
The church "La Madeleine" (of course under renovation)…
A view from "La Madeleine" towards La Place de la Concorde…
…& around…
Some details of the boulevards…
Chocolates & more: I've got the impression that I found lots of elaborate chocolates & sweets & cakes &… in each city I visited in 2017!
…also some savory delights…
(reminding me that I should try baking some of these in 2018!)
A last view of "La Madeleine" w/ Xmas lights sparkling…
Once again our reliable travel companions*:
*All books are affiliate links to www.amazon.de (details Datenschutz).
Alle Bücher sind über affiliate links mit www.amazon.de verknüpft (s. a. Datenschutz).
MerkenMerken