Dieser Beitrag enthält Werbung – advertising.
German Spritzgebäck is part of Xmas – has always been. At least for me.
For the record:
I know a trusted pastry shop making 1st class Spritzgebäck w/ & w/o chocolate. Full stop.
When roaming food blogs last week – which are full of Xmas baking ideas at the moment (it's like an avalanche overwhelming you) – I suddenly stumbled over a recipe for straightforward Spritzgebäck … & I was enthralled. At Lisbeths there was a photo w/ some crispy fresh cookies, some w/ chocolate, some w/ almond flakes … & suddenly I thought about making Spritzgebäck on my own.
The basics lingered in my pantry & my fridge: flour, butter, sugar, eggs, vanilla flavour … I even had some organic lemons in my fridge. There was only one thing lacking – an essential part of equipment: the cookie press.
Spritzgebäck means a rather tough batter although not tough enough for rolling out w/ a rolling pin & cutting out cookies or cutting cookies w/ a knife like shortbread. Otherwise it's too tough for a standard piping bag …
So in Germany meat mincing machines (traditional approach) use to have some additional equipment for creating Spritzgebäck – these iconic strips & curls & sinuous lines. I don't have a meat mincing machine.
Also there is special equipment coming w/ standard kitchen machines aka stand mixer/food processor (modern easy approach) for creating any type of batter. Unfortunately I also haven't got a kitchen machine.
… & there is the manual cookie press … (Of course: I never bought one!) Roaming the internet I found that there's a wide range of products w/ a just wider range of prices. The critics are varying: from breaking at 1st use up to useful since some years. I wasn't sure if to order or make my way to the next city …
So I finally decided to rely on some handmade process w/o help of any kitchen equipment – well, I just tried!
I started w/ assembling the ingredients.
There are:
all-purpose flour w/ baking powder
soft butter
fine sugar w/ vanilla sugar & a pinch of salt
eggs – using only the egg yolks
milk w/ vanilla extract
a lemon for lemon zest.
I reduced the amounts of the original recipe because I wanted it all done in one single baking session i. e. I had 2 baking trays to be filled.
Now all was going really fast!
I preheated my oven to 160° C w/ fan. I lined my baking trays w/ baking parchment. I prepared the lemon zest.
W/ my handheld electric mixer I mixed sugar mess & soft butter. Then I added the egg yolks. All was combined w/ the flour mess & the milk mess.
The result was a rather crumbly batter.
W/ my hands I kneaded all of it together.
I formed little heaps of batter about the size you might get when using a teaspoon. It resulted in 44 heaps.
I arranged the heaps on the baking tray (in general: 4 x 5) – somehow the additional 4 also found some space.
Then I flattened the heaps w/ my fingers & finally I took a fork for adding some more structure.
Ready for the oven session. Because of my oven w/ fan I could manage both baking trays in a single baking session. It took about 12 – 14 min. (After 12 min I reduced the heat for another 2 min because I wanted slightly brown cookies.)
Voilà: crispy Spritzgebäck!
(It's not the usual form of Spritzgebäck, however, the flavour, the texture – all is fine!)
For the record:
I know that the special form of Spritzgebäck is especially intriguing … It looks very professional. From my experience I can only stat that it doesn't reduce the flavors & the crispiness if you stay homemade & handmade.
I let the Spritzgebäck cool down completely & stored it in an airtight container. My better half was thrilled … especially when I produced some chocolate leftovers (from the last chocolate icing affair). It was enough melted chocolate for about half of the Spritzgebäck.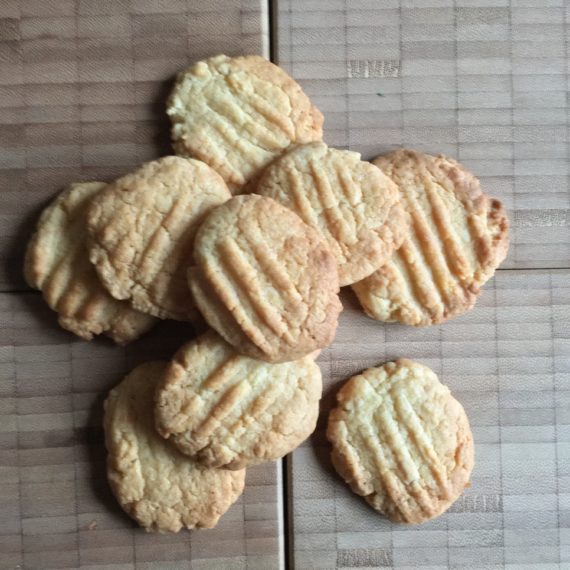 Enjoy!
Print Recipe
handmade german spritzgebäck (out of a moment)
ingredients:
125

g

butter

100

g

fine sugar

25

g

vanilla sugar

1/2

tsp

vanilla extract

a

pinch

of salt

2

egg yolks

250

g

all-purpose flour

1

tsp

baking powder

zest of an organic lemon

2

tbsp

milk

50

g

dark chocolate (or more)

OPTIONAL
how to:
Preheat the over to 160° C w/ fan.

Line 2 baking trays w/ baking parchment.

Mix sugar, vanilla sugar & salt, add the soft butter & mix w/ your handheld electric mixer.

Add egg yolks & lemon zest & mix.

Mix flour & baking powder; add the sugar-butter-egg mess & mix.

Mix milk & vanilla essence, add to the mess & mix.

Knead the batter until all is combined.

Take a tespoon & make small heaps of batter (about 40).

Arrange the heaps (4 x 5) on the baking trays.

Flatten the heaps & take a fork to add some more structure.

Bake in the preheated oven for about 12 - 14 min.

Let the cookies cool down completely & store them in an airtight container.

OPTIONAL: melt some dark chocolate & add to the cookies.
Notes
You may also use milk chocolate or white chocolate (Which is no chocolate in my understanding).
You may also add almond flakes on top of the chocolate as long as soft.
The chocolate icing session …
… which is not mandatory!