Dieser Beitrag enthält Werbung – advertising.
Last week my better half & I set off to Algarve in order to escape the bone freezing temperatures at home.
We found a breathtaking endless wide-stretching beach, blue skies & happy white clouds… & temperatures about 15-20° C.
(Of course the sea was far to cold w/ about 14° C or so for any swimming… we don't originate from Arctic regions!)
We loved walking the beach along the cliff line, indulging in lots of fresh air…
…admiring the beauty of shells…
However, we also had some bad weather. (I know: there isn't any bad weather – there are only inappropriate clothes!)
Now we are approaching il dolce far niente!
Each day we had some nice hours in fresh air, then the sky started clouding, raindrops kept falling, winds started, sometimes it got really stormy… etc. etc. Time to relax & order an espresso, to do nothing challenging, but chilling out w/ a glass of wine & a book and/or music… In the beginning we had lots of plans exploring the Algarve by car… However, the weather didn't cooperate!
So we finally accepted our fate & got used to il dolce far niente!
The  seagulls didn't care at all regardless of sun or rain or storm, of beach or swimming pool!
(They especially liked the empty pool…)
The (culinary) highlight was definitely Pasteis de Nata – Portugal's signature pastry.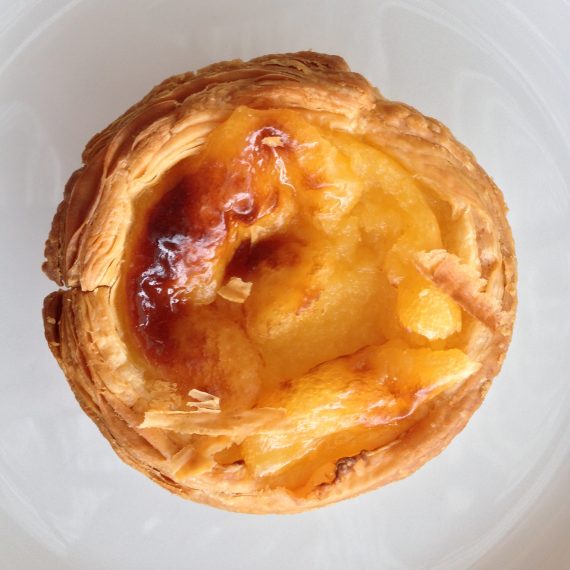 On the blog Lady & Pups you'll find a classic (demanding) approach for these custard filled puff pastry shells.
I think the easy approach might be:
Start w/ a muffin tin.
Grab some frozen puff pastry & form pastry shells fitting in the muffin tin moulds.
Prepare some custard based on a ready-to-use mix.
Fill the custard in the pastry shells & let them bake in the oven.
…& I'm sure there are lots of versions for Pasteis de Nata out there!
Resumé: they are delicious!
…good bye, Algarve!
Our travel companion* (not in excessive use due to the weather conditions…):
*All books are affiliate links to www.amazon.de (details Datenschutz).
Alle Bücher sind über affiliate links mit www.amazon.de verknüpft (s. a. Datenschutz).