Dieser Beitrag enthält Werbung – advertising.

Tallinn is the capital of Estonia. Estonia is the most northern of the Baltic states.
(I think I should mention this at the very beginning because I noticed – more than once – that one or another of our bunch of family, friends, colleagues, neighbours… started frowning & mulling over like "Where the hell is Tallinn?").
The most known facts about Tallinn are that it has one of the biggest & best preserved Old Town Quarters going back into the Middle Ages while at the same time Tallinn is a modern "digital city" on its way to its very own future in a "digital country".
Our travel companion* gave us lots of information about Tallinn & Estonia & the rest of the band:
We stayed in Tallinn for 2 days filled w/ blue skies & lots of sunshine. So let's now have a look over Old Tallinn:
There are many trees amid the old houses, the walls & the towers: Old Town almost seems to vanish under all the leaves.
…& here is the "new" Tallinn – also bathed in sunlight:
We concentrated mainly on the Old Town – it was fine weather, the temperatures approached 30° C… So it was a little exhausting walking on the cobblestones for some hours…
Nevertheless some impressions of medieval walls & towers: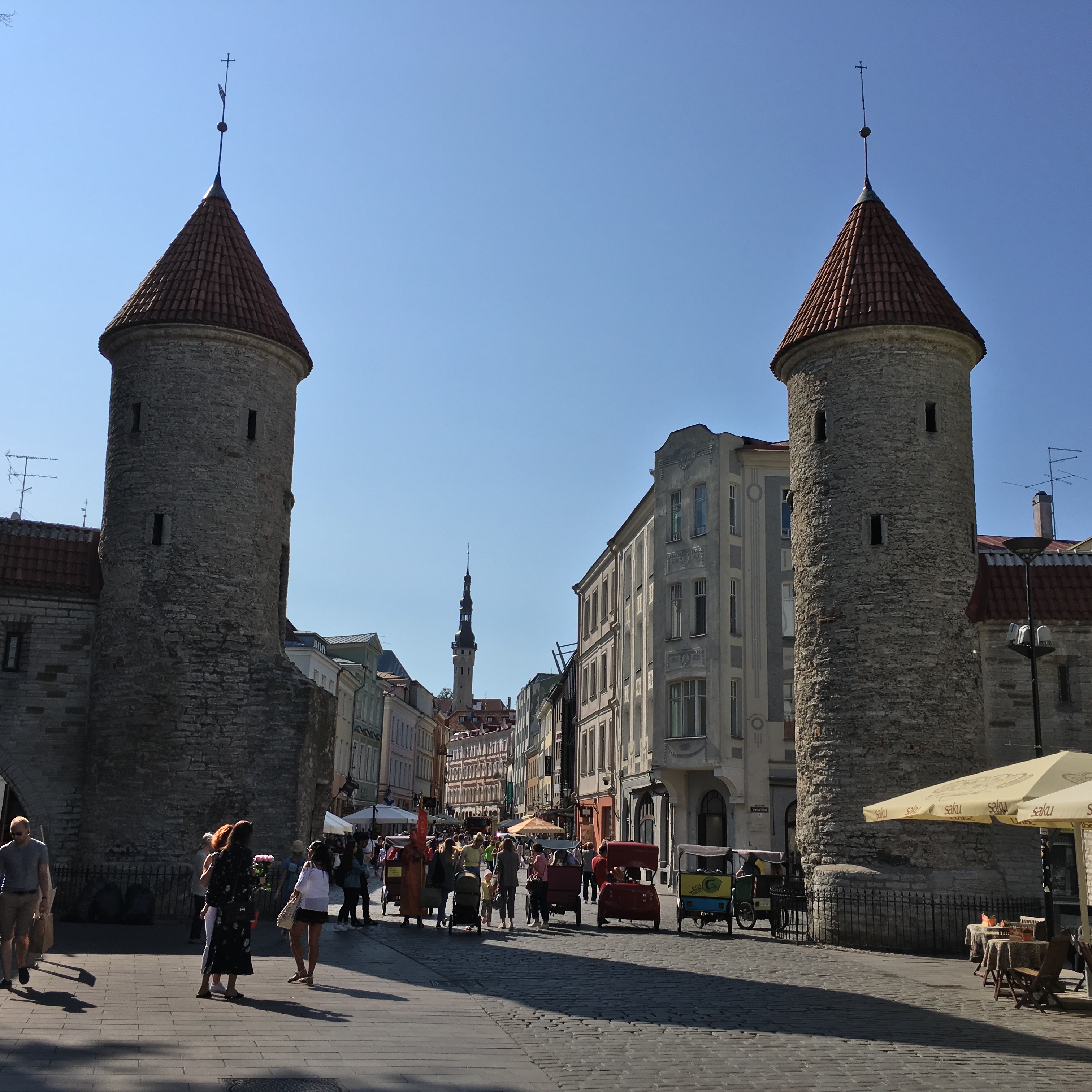 …& next to the walls & towers there's a world of spires – also bathed in sunlight & sparkling before a deep blue sky:
I did mention the overall blue sky & the blazing sun!
We – more than once – decided to heave some stop for recreation… Fortunately there are lots of cafés & bars where to sit & rest in the shade.
We made a (longer) walk to the palace built by the Russians (some centuries ago)… always in sunshine w/ blue skies above us…
…& finally we explored the orthodox cathedral (also built by the Russians – long ago). This impressive cathedral is made for sunshine & blue skies!
After such a lot of walking our last stop was always a rooftop bar w/ some refreshing Mojito… (or whatever!)! We watched the sunset, the sky turning dark slowly…
Once again out travel companion*:
(When thinking about the Baltic area I made a mental note to plan to go back for a trip around all the Baltic states to enjoy the coast & the landscape.)
*All books/DVD are affiliate links to www.amazon.de (details Datenschutz).
Alle Bücher/DVD sind über affiliate links mit www.amazon.de verknüpft (s. a. Datenschutz).